High up on a melting Greenland glacier, at the end of this summer from climate hell, two young women shout a poem above the roar of the wind. Aka Niviana, grew up on the northern coast of Greenland; as its ice inexorably thaws, her traditional way of life disappears. And the water that melts off that ice sheet is drowning the home of Kathy Jetnil-Kijiner and everyone else in her home nation, the Marshall Islands of the Pacific. One poet watches her heritage turn to water; the other watches that same water sweep up the beaches of her country and into the houses of her friends. The destruction of one's homeland is the inevitable destruction of the other's.
I've spent 30 years thinking about climate change – talking with scientists, economists and politicians about emission rates and carbon taxes and treaties. But the hardest idea to get across is also the simplest: we live on a planet, and that planet is breaking. Poets, it turns out, can deliver that message.
---
Posted on 12 September 2018 by John Abraham
Global warming means truly global warming. The atmosphere, the oceans, and the ground are all warming. As a result, ice is melting, seas are rising, storms are getting more severe, and droughts are getting worse. But these things are not happening in isolation. The tricky thing about the climate is that things are connected all across the globe. And those connections are revealing changes that may not be obvious at first glance.
One such change was exposed in a recent paper published in the journal Environmental Research Letters by a team of top scientists from China and Brazil, an instructive video is available here. The scientists focused their study on the Amazon rainforest. There, the year is broken into "wet" and "dry" seasons. The researchers wanted to know how rainfall has changed during the wet seasons over the past few decades.
What they found was astonishing – the rain in this tropical rainforest has increased 180–600 mm (7–24 inches). They learned about the increase in wet-season rainfall by reviewing old weather data – information from rain gauges for example. They also used satellite measurements to complement the rain gauge readings. The trend they found was clear – the rains are increasing.
---
Posted on 11 September 2018 by BaerbelW
This article was orginially published in December 2016 and we are reposting it now to give the mentioned projects some more exposure and to highlight a new Shortterm crowdfunding project initiated by DeSmog UK.
At a guess, many of you reading this post are already making good personal choices to help mitigate climate change. Some of you would perhaps like to do more. So, here are some suggestions where you can get actively involved either via crowdfunding, where you make a monetary donation or via crowdsourcing, where you donate your or your computer's time to sift through different sets of data.
This post is divided into three sections:
Ongoing crowdfunding - sites and groups listed here are continously looking for donations
Shortterm crowdfunding - these are projects with a target amount and a set deadline
Crowdsourcing - projects looking for your (or your computer's) time
---
Ongoing crowdfunding
Climate Science Legal Defense Fund (CSLDF)

| | |
| --- | --- |
| | The Climate Science Legal Defense Fund was established to make sure that legal actions are not viewed as an attack against one scientist or institution, but as attacks against the scientific endeavor as a whole. As well. the CSLDF protects individual scientists facing unfair legal attacks by organized groups. Given the current climate - pun most definitely intended - in the U.S. the CSLDF's work is unfortunately becoming ever more important. Link to donation page |
| | |
| --- | --- |
| Jason Box's and Peter Sinclair's The Dark Snow Project gathers 'hard numbers' from the Arctic to quantify the distant snow/ice melting impact of industrial and wildfire black carbon soot; mineral dust; and microbes, each melt factor having some human driven enhancement. Link to donation page | |
The Australian Climate Council
| | |
| --- | --- |
| | After thousands of Australians chipped in to Australia's biggest crowd-funding campaign, the abolished Climate Commission has relaunched as the new, independent Climate Council. We exist to provide independent, authoritative climate change information to the Australian public. Why? Because our response to climate change should be based on the best science available. Link to donation page |
Citizens' Climate Education (CCE)
| | |
| --- | --- |
| Your donation to Citizens' Climate Education will train ordinary citizens to promote fair, effective, and non-partisan climate change solutions. Citizens' Climate Education's volunteers understand that we owe it to tomorrow's generations to face our climate challenges today. These informed, respectful citizens work to build a clean and prosperous future, leading elected officials towards solutions that reduce carbon pollution, create jobs, and strengthen the American economy. Link to donation page | |
| | |
| --- | --- |
| | The goal of Real Skeptic is to look at claims about science and investigate what the scientific literature has to say about it. Since the official start of Real Sceptic a wide array of articles about skepticism were written for this website. There's a heavy emphasis on the accuracy of the articles published and the usage of high quality sources. Link to Patreon page |
| | |
| --- | --- |
| InsideClimate News is an essential, global voice that exposes the truth about the climate crisis. We connect the dots to those responsible, so that you can hold them accountable. As we enter our 10th year, we're launching The InsideClimate Circle to ensure that our award-winning nonprofit news organization remains fiercely independent and courageously persistent. Link to membership page | |
---
---
Posted on 10 September 2018 by dana1981
Donald Trump's latest Supreme Court nominee Brett Kavanaugh accepts that humans are causing global warming and we need to take action to stop it. The problem is that he doesn't trust the experts at EPA to do so and wants to erode their authority to regulate carbon pollution.
Chevron is the key
When discussing Chevron and climate change, we usually focus on the company's legal liability. However, in Kavanaugh's context, 'Chevron deference' is even more important. The term refers to the fact that courts will generally defer to government agency interpretations of laws as long as Congress hasn't spoken directly to the issue at hand.
David Doniger, director of the climate and clean air program at the Natural Resources Defense Council noted that Kavanaugh doesn't believe Chevron deference applies on issues of major importance. In a recent net neutrality case, Kavanaugh argued, "While the Chevron doctrine allows an agency to rely on statutory ambiguity to issue ordinary rules, the major rules doctrine prevents an agency from relying on statutory ambiguity to issue major rules."
That's Kavanaugh's position on climate change. In oral arguments before his DC Circuit Court of Appeals in a 2016 Clean Power Plan case, Kavanaugh said:
This is huge case … it has huge economic and political significance … it's fundamentally transforming an industry by telling existing units you in essence have to pay a penalty, a huge financial penalty in order to continue to exist, in order to shift from coal plants to solar and wind plants, at the same time the coal mining industry is in essence greatly harmed, as well.
But while regulating carbon pollution would have a major impact on the fossil fuel industry, the same is true of most pollutant regulations. It's nevertheless EPA's job to regulate pollutants, and the agency has been doing exactly that since its inception.
---
Posted on 9 September 2018 by John Hartz
Story of the Week... Editorial of the Week... Toon of the Week... Quote of the Week... Coming Soon on SkS... John Cook Sighting... SkS Week in Review... Poster of the Week...
Story of the Week...
Rise for Climate: thousands march across US to protest environment crisis
Protests spearheaded by march in San Francisco ahead of climate change summit in the city next week
Several thousand people took part in a climate march in New York City on Thursday. Ten activists were arrested after blocking the street in front of Andrew Cuomo's Manhattan office. Photograph: Michael Brochstein/SOPA Images/REX/Shutterstock
Tens of thousands of people took part in marches and other events across the US on Saturday, calling for a swift transition to renewable energy in order to stave off the various perils of climate change.
The Rise for Climate protests was spearheaded by what organizers called the largest ever climate march on the US west coast. The march, which snaked through the heart of San Francisco, came ahead of a climate change summit in the city next week that will gather mayors and business leaders from around the world.
The San Francisco march, which called for California governor Jerry Brown to end fossil fuel extraction in the state, attracted around 30,000 people, organizers said.
An array of activities, including rallies, voter registration drives and vigils, were scheduled to take place across the US, in cities such as Boston, Miami and Portland, Oregon. Events were also planned in Puerto Rico. In New Orleans, protesters planned to agitate for the halt of the Bayou Bridge pipeline, an extension of the controversial Dakota Access project that last year spurred a lengthy standoff at the Standing Rock reservation.
Rise for Climate: thousands march across US to protest environment crisis by Oliver Milman, Environment, Guardian, Sep 8, 2018
---
Posted on 8 September 2018 by John Hartz
A chronological listing of news articles posted on the Skeptical Science Facebook Page during the past week.
Editor's Pick
A powerful current just miles from SC is changing. It could devastate the East Coast.
Ben Franklin and Timothy Folger's map of the Gulf Stream in 1768. Library of Congress
Off South Carolina, the ocean suddenly changes color, from green to deep blue. You're in the Gulf Stream now, in warm and salty water from the tropics, with swordfish, tuna and squid, in a current so strong that it lowers our sea level.
Benjamin Franklin would learn about this current's force. He was a Colonial postmaster before the American Revolution, and he'd noticed British mail ships were slow, much slower than other merchant ships. Why?
He mentioned this to his cousin, Timothy Folger, a ship captain who'd hunted whales off New England. Ah, yes, that current off the East Coast, Folger told Franklin. Any fishermen worth their nets cut in and out to make better time — the whalers had even warned the mail ships to steer clear. But the Brits "were too wise to be counseled by American fishermen."
A map might help, and so they made a chart of this "Gulf Stream" from Florida toward Europe. It was one of the first maps to document its tremendous reach.
A powerful current just miles from SC is changing. It could devastate the East Coast. by Tony Bartelme, Special Reports, Charleston Post & Courier, Sep 5, 2018
---
Posted on 7 September 2018 by Ari Jokimäki
A selection of new climate related research articles is shown below.
Climate change impacts
Mankind
Climate Change and Heat-Related Excess Mortality in the Eastern USA
Climate change impacts on peak building cooling energy demand in a coastal megacity (open access)
Flood prediction and mitigation in coastal tourism areas, a case study: Hurghada, Egypt
Drivers of response to extreme weather warnings among marine fishermen
Are farmers' adaptations enhancing food production? Evidence from China
Climate trends, risks and coping strategies in smallholder farming systems in Uganda (open access)
Views from two mountains: exploring climate change impacts on traditional farming communities of Eastern Africa highlands through participatory scenarios (open access)
Implementing climate change adaptation: lessons from India's national adaptation fund on climate change (NAFCC)

Broadening understandings of drought – The climate vulnerability of farmworkers and rural communities in California (USA) (open access)
Traumatic and Nontraumatic Driving Accidents Due to Dry Spells in Northern Iran: A Time Series Analysis
Climate change beliefs in an agricultural context: what is the role of values held by farming and non-farming groups?
---
Posted on 6 September 2018 by Guest Author
Joshua M. Pearce, Professor of Materials Science and Engineering, and Electrical and Computer Engineering, Michigan Technological University. This article was originally published on The Conversation. Read the original article.
The Trump administration announced new pollution rules for coal-fired power plants designed to keep existing coal power plants operating more and save American coal mining jobs.
Profitability for U.S. coal power plants has plummeted, and one major coal company after another has filed for bankruptcy, including the world's largest private-sector coal company, Peabody Energy.
The main reason coal is in decline is less expensive natural gas and renewable energy like solar. Coal employment has dropped so low there are fewer than 53,000 coal miners in total in the U.S. (for comparison, the failing retailer J.C. Penny has about twice as many workers).
The EPA estimates the new rules will cause about 1,400 more premature deaths a year from coal-related air pollution by 2030. The Trump administration could avoid the premature American deaths from coal pollution – which amount to about 52,000 per year in total – and still help the coal miners themselves by retraining them for a more profitable industry, such as the solar industry.
A study I co-authored analyzed the question of retraining current coal workers for employment in the solar industry. We found that this transition is feasible in most cases and would even result in better pay for nearly all of the current coal workers.
How to make the jump?
What is left of the coal mining industry represents a unique demographic compared to the rest of America. It is white (96.4 percent); male (96.2 percent); aging, with an average age of 43.8 years old; and relatively uneducated, with 76.7 percent having earned only a high school degree or equivalent. Many are highly skilled, however, with the largest sector of jobs being equipment operators at 27 percent. Many of these skills can be transferred directly into the solar industry.
---
Posted on 5 September 2018 by Guest Author
This is a re-post from Carbon Brief by Daisy Dunne
An additional 290 million people could face malnutrition by 2050 if little is done to stop the rise of greenhouse gas emissions, a study finds.
The increased presence of CO2 in the atmosphere could cause staple crops to produce smaller amounts of nutrients such as zinc, iron and protein, the researchers say.
Using international datasets of food consumption, the study estimates that these changes could cause an additional 175 million people to be zinc deficient and an additional 122 million people to be protein deficient by 2050.
The findings show that malnutrition is most likely to affect parts of the world that are already grappling with food insecurity, such as India, parts of North Africa and the Middle East, the lead author tells Carbon Brief.
Growing problems
Climate change is known to threaten food security by increasing the chances of extreme weather events such as heatwaves and drought – which can cause crop failures.
However, climate change could also threaten food security by worsening malnutrition.
Across the world, humans get the majority of the key nutrients they need from plants. Crops, including cereals, grains and beans, provide humans with 63% of their protein, which is needed to build new body tissue.
---
Posted on 3 September 2018 by dana1981
In America today, it's rare to see political leaders respond to a threat with an appropriate evidence-based policy solution. At the national level, more often we see actions that aggravate existing problems or create new ones. California – the country's most populous and economically powerful state – has been a welcome exception.
California has been battered by extreme weather intensified by climate change. From 2012 to 2016 the state was scorched by its worst drought in over a millennium. Weather whiplash struck in 2017, when much of the state broke precipitation records. This combination led to devastating mudslides and created the conditions for the most destructive and costly wildfire season on record in 2017, followed by the state's largest-ever wildfire in 2018, which broke the previous record (set in 2017) by more than 60%.
All of these impacts have been exacerbated by global warming. The past five years have been California's five hottest on record. And so, the state's leaders decided to do something about it. California had already set a renewable portfolio standard in 2002, strengthened by Governor Arnold Schwarzenegger's 2008 executive order requiring that 33% of electricity be generated by renewable sources by 2020. Governor Jerry Brown signed Senate Bill (SB) 350 in 2015, expanding the requirement to 50% renewables by 2030.
Last week, California state lawmakers passed State Senator (and candidate for US Senate) Kevin de León's SB 100, which amps up the target to 50% renewables by 2026, 60% by 2030, and 100% from "renewable energy resources and zero-carbon resources" by 2045.
The more aggressive clean energy targets are justified. Not only does California need to make up some of the climate slack created by the Trump administration, but the state is now ahead of its targets, with 29% of electricity last year generated from renewables and over 50% from zero-carbon sources (including nuclear and hydroelectric power).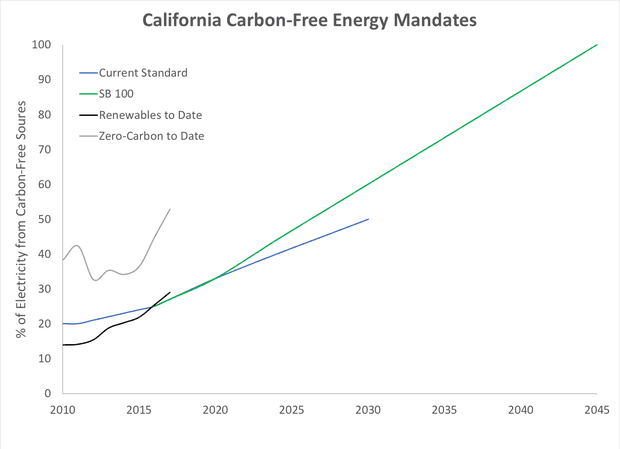 ---
Posted on 2 September 2018 by John Hartz
Calls to Action... Story of the Week... Editorial of the Week... El Niño/La Niña Update... Toon of the Week... Coming Soon on SkS... Climate Feedback Reviews... SkS Week in Review... Poster of the Week...
Calls to Action*...
Looking ahead...
Sat Sep 8 is an extremely important day for climate activists because they will be gathering in cities throughout the world to Rise Up for Climate. If you re not already plugged into an event in your area, you can easily do so by going to the official Rise Up for Climate website. From the global campaign's website:
On September 8, we're planning thousands of rallies in cities and towns around the world to demand our local leaders commit to building a fossil free world that puts people and justice before profits.

No more stalling, no more delays: it's time for a fast and fair transition to 100% renewable energy for all.

Real climate leadership rises from below. It means power in the hands of people not corporations. It means economic opportunity for workers and justice and dignity for frontline communities that are the hardest hit by the impacts of the fossil fuel industry and a warming world.
Looking inside...
Be sure to check out the next two sections of this digest — Story of the Week and Opinion of the Week. They address two inter-related issue re the human race's ability to come to grips with the reality of man-made climate change and the need to effectively mitigate it starting now.
Looking behind...
Something that flew under my radar screen when it was released earlier this year...
Narrated by Danny Glover, A documentary special reveals how climate change science has been under systematic attack; the multi-million dollar campaign allowed a climate change denier to be elected president (a new version with updated content and music)
TRNN Documentary: Trump, The Koch Brothers and Their War on Climate Science, May 23, 2018
TRNN = The Real News Network, Baltimore, MD
---
*The views expressed in this section are those of John Hartz and do not necessarily reflect consensus views of the SkS author team — it's nearly impossible to achieve consensus within a herd of cats.
---