Explaining climate change science & rebutting global warming misinformation
Scientific skepticism is healthy. Scientists should always challenge themselves to improve their understanding. Yet this isn't what happens with climate change denial. Skeptics vigorously criticise any evidence that supports man-made global warming and yet embrace any argument, op-ed, blog or study that purports to refute global warming. This website gets skeptical about global warming skepticism. Do their arguments have any scientific basis? What does the peer reviewed scientific literature say?
---
Posted on 27 May 2018 by John Hartz
Story of the Week... Opinion of the Week... Toon of the Week... Quote of the Week... Graphic of the Week... SkS Spotlights... Video of the Week... Coming Soon on SkS... Climate Feedback Reviews... SkS Week in Review... Poster of the Week...
Story of the Week...
What Is Kilauea's Impact on the Climate?
Scientists are tearing their hair out over baseless myths about the erupting volcano in Hawaii.
Mario Tama/Getty
Maarten de Moor would like to clear up a few things about the dramatic, weeks-long eruption of Hawaii's Kilauea volcano.
Kilauea's spectacular explosions won't set off earthquakes on America's West Coast. They won't cause a tsunami, either. They won't trigger a bigger, more catastrophic eruption like the one of Mount Pinatubo, in the Philippines, in 1991. "Not gonna happen," de Moor, a volcanologist, said. And even though Kilauea is emitting lots of carbon dioxide, it won't worsen global warming to any meaningful degree. "That one," he said, "is just not based on any facts at all."
Each of these myths about Kilauea have spread on the internet in one form or another since the volcano began spewing lava on May 3. They've been largely debunked thanks to scientists like de Moor, who monitors volcanic emissions for the Deep Carbon Observatory and the Volcanological and Seismological Observatory of Costa Rica. The Associated Press, for example, corrected its May 13 story that wrongly stated that Kilauea was part of the "Ring of Fire," a belt of severe seismic activity that surrounds the Pacific Ocean. The popular-science publications Earther and National Geographic have also published extensive articles refuting most of these claims.
But one of these myths has been especially persistent.
What Is Kilauea's Impact on the Climate? by Emily Atkin, The New Republic, May 26, 2018
---
Posted on 26 May 2018 by John Hartz
A chronological listing of news articles posted on the Skeptical Science Facebook Page during the past week.
Editor's Pick
Climate change may lead to bigger atmospheric rivers
In early 2017, the Western United States experienced rain and flooding from a series of storms flowing to America on multiple streams of moist air, each individually known as an atmospheric river. Image credit: NASA/JPL-Caltech
A new NASA-led study shows that climate change is likely to intensify extreme weather events known as atmospheric rivers across most of the globe by the end of this century, while slightly reducing their number.
The new study projects atmospheric rivers will be significantly longer and wider than the ones we observe today, leading to more frequent atmospheric river conditions in affected areas.
"The results project that in a scenario where greenhouse gas emissions continue at the current rate, there will be about 10 percent fewer atmospheric rivers globally by the end of the 21st century," said the study's lead author, Duane Waliser, of NASA's Jet Propulsion Laboratory in Pasadena, California. "However, because the findings project that the atmospheric rivers will be, on average, about 25 percent wider and longer, the global frequency of atmospheric river conditions — like heavy rain and strong winds — will actually increase by about 50 percent."
The results also show that the frequency of the most intense atmospheric river storms is projected to nearly double.
---
Posted on 25 May 2018 by Ari Jokimäki
A selection of new climate related research articles is shown below.
Climate change impacts
Mankind
Assessing the Impacts of Extreme Agricultural Droughts in China Under Climate and Socioeconomic Changes (open access)
"Our simulations project a rise of 2.5~3.3% in average rice, maize, and wheat productivity before 2050 but decrease thereafter if climate warming continues."
Climate change adaptation strategies and food productivity in Nepal: a counterfactual analysis
"Based on a survey of 720 farming households in Nepal, our results show that adoption of adaptation strategies has significantly increased food productivity. Among the adaptation strategies, soil and water management are shown to have the largest impact on food productivity followed by adjustments to the timing of farm operations and crop and varietal adjustment."
Strengthening climate change adaptation capacity in Africa- case studies from six major African cities and policy implications
Adaptation to climate change at local level in Europe: An overview
The changing sensitivity of power systems to meteorological drivers: a case study of Great Britain (open access)
---
Posted on 24 May 2018 by BaerbelW
Skeptical Science is not alone when it comes to sharing reliable information about climate science. There are many websites around the world which regularly write about the latest studies or set the record straight when misinformation gets spread. Our website is however somewhat unique as the backbone of SkS is our database cataloging and debunking more than 220 false claims made about the science of human-caused global warming.
In this article we highlight some international resources which share information about climate change and possibly even throw in some debunking for good measure in other languages than English. To get the ball rolling, here is what we have and are aware of thus far:
Brazil - Portuguese
Five years ago Raphael Romanizia decided to start a site about climate change during his master studies. Around that time, Brazil had been introducing several regulations and initiatives related to climate change, and he believed that the site would fit in with the momentum. A reliable reference exclusively specialized on climate science and climate change had been missing.
The site's main focus is to increase public awareness about human-caused climate change and the strategy is to make scientific information easily accessible. It presents scientific content in several different formats, including articles about climate science research, videos, or charts and graphics (or here) with important pieces of information (commented or explained by the site).
It is also a personal project, developed without financing or any kind of support - yet.
---
Posted on 23 May 2018 by John Abraham
Last summer, the United states was pummeled with three severe hurricanes in rapid succession. It was a truly awesome display of the power of weather and the country is still reeling from the effects. In the climate community, there has been years of research into the effect that human-caused global warming has on these storms – both their frequency and their power.
The prevailing view is that in a warming world, there will likely be fewer such storms, but the storms that form will be more severe. Some research, however, concludes that there will be both more storms and more severe ones. More generally, because there is more heat, there is more activity, which can be manifested in several ways.
Regardless, there is very little doubt that a warmer planet can create more powerful storms. The reason is that hurricanes feed off of warmer ocean water. In order to form these storms, oceans have to be above about 26°C (about 80°F). With waters that hot, and with strong winds, there is a rapid evaporation of moisture from the ocean. The resulting water vapor enters into the storm, providing the energy to power the storm as the water vapor condenses and falls out of the storm as rain.
As a large hurricane passes over warm water, it sucks in heat not only from the top layer of water but also from quite deep in the ocean, at least 160 meters (approximately 525 feet) or more. The main way heat is pulled out of the ocean is through the aforementioned evaporation process. There are also smaller effects from mixing the ocean waters and blocking sunlight to the ocean. Basically, when a hurricane passes over warm waters, the ocean "sweats" and cools off – a process enabled by the strong winds. The image below shows this evaporation and condensation process.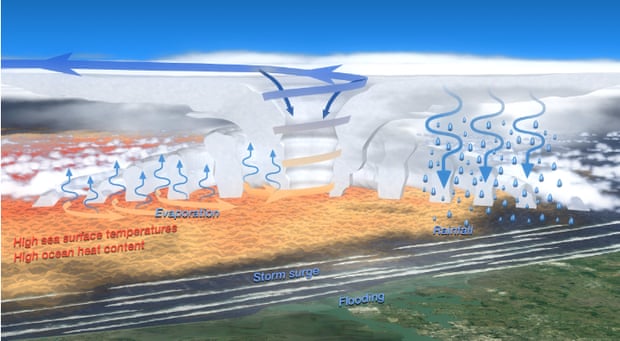 ---
Posted on 22 May 2018 by Guest Author
This is a re-post from Carbon Brief by Benjamin Cook
Dr Benjamin Cook is a climate scientist at the NASA Goddard Institute for Space Studies and the Lamont-Doherty Earth Observatory.
Few areas of the world are completely immune to droughts and their often-devastating impacts on water resources, ecosystems and people.
Regions as diverse as California, the Eastern Mediterranean, East Africa, South Africa and Australia have all experienced severe – and, in some cases, unprecedented – droughts in recent years.
As with other climate and weather extremes, such as storms and floods, these events have spurred strong interest in questions surrounding the impact of climate change. For example, is climate change making droughts more frequent or severe? And can we expect climate change to contribute to increased drought risk and severity in the future?
The most recent research shows climate change is already making many parts of the world drier and droughts are likely to pack more punch as the climate warms further.
Defining drought
Droughts are among the most expensive weather-related disasters in the world (pdf), affecting ecosystems, agriculture and human society.
The scale of the impacts underlines how important it is to understand droughts and how their likelihood and severity can be made worse by climate change.
But this is easier said than done. For a start, drought is fundamentally a cross-disciplinary phenomenon – it extends across the fields of meteorology, climatology, hydrology, ecology, agronomy, and even sociology, economics, and anthropology.
This means how you define a drought may depend on your field of interest.
---
Posted on 21 May 2018 by dana1981
Last week, the House Science, Space and Technology Committee held yet another climate science hearing similar to those from April 2017, February 2017, January 2016, May 2015, June 2014, December 2013, and so on. It seems as though disputing established climate science is House Republicans' favorite hobby. This time, it was Philip Duffy's turn to spend two hours playing whack-a-mole with the committee Republicans' endless supply of long-debunked climate myths.
Rep. Mo Brooks (R-AL) claimed that sea level rise is due to the White Cliffs of Dover tumbling into the ocean (yes, really), and his colleagues argued that scientists in the 1970s were predicting global cooling, that Earth is just returning to its "normal temperature," that Antarctic ice is growing, and sea levels are hardly rising.
Self-contradictory sea level rise denial
Those last two claims originated from a Wall Street Journal (WSJ) editorialentered into the Congressional record by Chairman Lamar Smith (R-TX), written by Fred Singer. As the group Ozone Action documented, Singer has been a lifetime contrarian on virtually every scientific subject imaginable - acid rain, nuclear winter, nuclear waste, nuclear war, ozone depletion, secondhand smoke, amphibian population loss, and even minimum wage benefits. In recent decades he's worked for a plethora of fossil fuel-funded think tanks, denying established climate science.
Singer's WSJ editorial is difficult to follow, largely because it contradicts itself several times, saying:
---
Posted on 20 May 2018 by John Hartz
Story of the Week... El Niño/La Niña Update... Toon of the Week... Quote of the Week... Coming Soon on SkS... Poster of the Week... Climate Feedback Reviews... SkS Week in Review... 97 Hours of Consensus...
Story of the Week...
Water shortages to be key environmental challenge of the century, Nasa warns
Freshwater supplies have already seriously declined in 19 global hotspots – from China to the Caspian Sea – due to overuse, groundbreaking study shows
The Theewaterskloof Dam, a key source of water supply to Cape Town, South Africa ahead of the current water crisis. Photograph: Halden Krog/AP
Water shortages are likely to be the key environmental challenge of this century, scientists from Nasa have warned, as new data has revealed a drying-out of swaths of the globe between the tropics and the high latitudes, with 19 hotspots where water depletion has been dramatic.
Areas in northern and eastern India, the Middle East, California and Australia are among the hotspots where overuse of water resources has caused a serious decline in the availability of freshwater that is already causing problems. Without strong action by governments to preserve water the situation in these areas is likely to worsen.
Some of these hotspots were previously undocumented or poorly understood: a region in north-western China, in Xinjiang province, has suffered dramatic declines despite receiving normal amounts of rainfall, owing to groundwater depletion from industry and irrigation.
Water shortages to be key environmental challenge of the century, Nasa warns by Fiona Harvey, Environment, Guardian, May 16, 2018
---
Posted on 19 May 2018 by John Hartz
A chronological listing of news articles posted on the Skeptical Science Facebook Page during the past week.
Editor's Pick
Urgent Climate Action Required to Protect Tens of Thousands of Species Worldwide, New Research Shows
Limiting global warming to 2 degrees and not the more ambitious 1.5 degrees would put far more species at risk of extinction. Insects are especially vulnerable.
A mere half degree of extra global warming could mean profound risks for tens of thousands of the planet's species, scientists have found. Credit: Alex Wong/Getty Images
Humanity can powerfully improve the survival odds of tens of thousands of species, but only if nations dramatically raise their ambitions in the fight against climate change, according to new research published on Thursday in the journal Science.
One key to salvaging plant and vertebrate habitat and protecting the world's biodiversity is to limit warming to the most challenging benchmark established under the 2015 Paris treaty—1.5 degrees Celsius of warming—not to the treaty's less stringent 2 degree guardrail, the study found.
The study assessed, in more detail than ever before, a key measure of extinction risk: the shrinking size of each species' current geographical range, or natural habitat. It projected that for an alarming number of species, their range size would shrink by at least half as temperatures rise past the Paris goals.
If nations do no more than they have pledged so far to reduce their greenhouse gas emissions—and warming consequently shoots past 3 degrees by the end of this century—6 percent of all vertebrates would be at risk. So would 44 percent of plants and a whopping 49 percent of insects.
But the dangers would be greatly reduced if warming can be limited to 1.5 degrees. That might protect the overwhelming majority of the 115,000 species assessed by the researchers. Just 4 percent of vertebrates would lose more than half of their current range. Only 8 percent of plants and 6 percent of insects would face that risk.
Keeping warming to 2 degrees is not nearly as effective, they found. The additional half degree of warming would double the impact on plants and vertebrate species, and triple the impact on insects.
Urgent Climate Action Required to Protect Tens of Thousands of Species Worldwide, New Research Shows by John H Cushman Jr & Neela Banerjee, InsideClimate News, May 17, 2018
---
Posted on 18 May 2018 by Ari Jokimäki
A selection of new climate related research articles is shown below.
Climate change
Temperature, precipitation, wind
Comparing daily temperature averaging methods: the role of surface and atmosphere variables in determining spatial and seasonal variability
Dynamical analysis of extreme precipitation in the US northeast based on large-scale meteorological patterns
Projected change in characteristics of near surface temperature inversions for southeast Australia
Consequences of 1.5 °C and 2 °C global warming levels for temperature and precipitation changes over Central Africa
Unidirectional trends in annual and seasonal climate and extremes in Egypt
An asymmetric rainfall response to ENSO in East Asia
Mixed precipitation occurrences over southern Québec, Canada, under warmer climate conditions using a regional climate model
Extreme events
Estimation of the compound hazard severity of tropical cyclones over coastal China during 1949–2011 with copula function
---
Posted on 17 May 2018 by Guest Author
This is a re-post from Carbon Brief by Simon Evans
For the first time, in 2017, global solar capacity grew faster than all fossil fuels combined, including coal, oil and gas-fired power stations.
That's one finding of the latest annual report on global trends in renewable energy finance, from the UN Environment Programme (UNEP) and Bloomberg New Energy Finance (BNEF).
It shows renewables, excluding large hydro, made up three-fifths of net power capacity growth in 2017 and supplied a record 12% share of global electricity generation.
Global renewable investment held steady, with falling costs ensuring the same money bought record levels of new capacity. Within that, developing nations, led by China, claimed an ever-larger share of the total as investment fell steeply in several European countries.
Solar record
One of the most striking findings in today's report is that global solar capacity grew faster in 2017 than the combined total for all fossil fuels – coal, oil, gas – as the chart below shows.
Note that this chart shows net capacity growth, after accounting for power plants that have retired. This is particularly significant for coal, where 32 gigawatts (GW) closed in 2017 and for gas, which lost 16GW.
The milestone reflects rising investment and falling costs for solar (see below for more on this). Significantly, it also reflects the decline in the growth of new coal and gas capacity, as well as an increase in retirements.
---
Posted on 16 May 2018 by greenman3610
This is a re-post from Climate Denial Crock of the Week
Not the first time I've had to shoot down this nonsense, probably not the last.
The internet's perverse algorithms select for "man bites dog" stories, which explains why every yahoo with a "global cooling", "imminent ice age" video gets pushed to the front of the queue.
This includes a spate of stories after a recent study of solar cycles. Naturally, I talked to the author.
---
Posted on 15 May 2018 by Evan, jg
Tag Line
A sinking ship reaches new heights.
Elevator Statement
For a sinking ship the stern may be unusually low, the bow unusually high, and on average, the whole thing is going down. We cannot infer what is happening to the ship just by what is happening to one part. We must look at the entire ship.
It seems that at least one US Senator did not understand this relationship between the environment's local extremes and global means when he found snow in front of the US capital, in February, and thought it meant that Global Warming had stopped.1 If he had watched the news that night, he might have realized that just a few hundred miles to the south it was unusually hot in Florida.
If we wait to take action on Climate Change until it is obvious to everyone that the ship is sinking, we may all be swimming.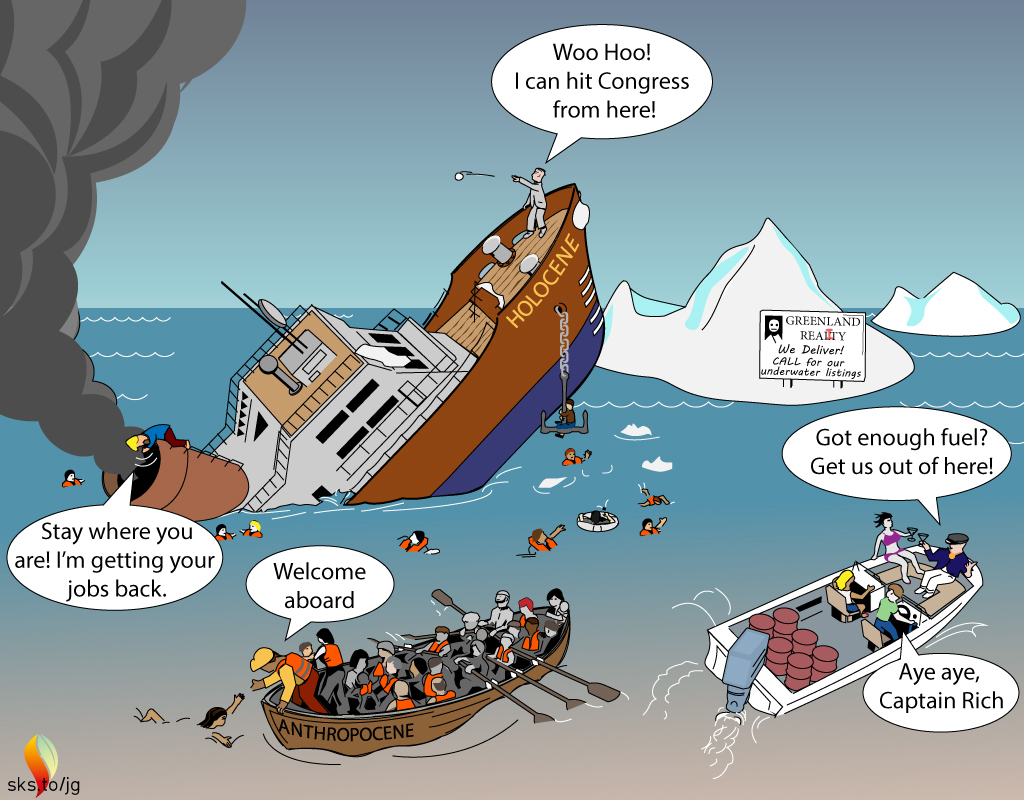 Climate Science
As the Earth warms, some parts will still be cold. Let's face it, the North and South Poles are just cold places. Some parts may experience colder temperatures for a while in response to a modified jet stream that draws cold, Arctic air further south than in the past. Cold days still happen, just less frequently.
---
Posted on 14 May 2018 by dana1981
In 1988 – the same year Nasa's James Hansen warned Congress about the threats posed by human-caused global warming – water expert Peter Gleick wrote about the wet and dry extremes that it would create for California:
California will get the worst of all possible worlds – more flooding in the winter, less available water in the summer.
Three decades later, California has been ravaged by just this sort of weather whiplash. The state experienced its worst drought in over a millennium from 2012 to 2016, followed immediately by its wettest year on record in 2017. The consequences have been similarly extreme, including hellish record wildfires, narrowly-avoided catastrophic flooding at Oroville Dam, and deadly mudslides.
A study published last month in Nature Climate Change found that these wet and dry extremes will only worsen in California as temperatures continue to rise. As lead author Daniel Swain wrote:
most of California will likely experience a 100 – 200% increase in the frequency of very wet November-March "rainy seasons" … California will likely experience an increase of anywhere from 50% to 150% (highest in the south) in the frequency of very dry November-March periods … Since California is so dependent on precipitation during its relatively brief winter rainy season, even a single dry winter can quickly lead to adverse drought impacts upon agriculture and the environment.