Explaining climate change science & rebutting global warming misinformation
Scientific skepticism is healthy. Scientists should always challenge themselves to improve their understanding. Yet this isn't what happens with climate change denial. Skeptics vigorously criticise any evidence that supports man-made global warming and yet embrace any argument, op-ed, blog or study that purports to refute global warming. This website gets skeptical about global warming skepticism. Do their arguments have any scientific basis? What does the peer reviewed scientific literature say?
---
Posted on 23 August 2017 by dana1981
Read all of these documents and make up your own mind.
That was the challenge ExxonMobil issued when investigative journalism by Inside Climate News revealed that while it was at the forefront of climate science research in the 1970s and 1980s, Exxon engaged in a campaign to misinform the public.
Harvard scientists Geoffrey Supran and Naomi Oreskes decided to take up Exxon's challenge, and have just published their results in the journal Environmental Research Letters. They used a method known as content analysisto analyze 187 public and internal Exxon documents. The results are striking:
In Exxon's peer-reviewed papers and internal communications, about 80% of the documents acknowledged that climate change is real and human-caused.
In Exxon's paid, editorial-style advertisements ("advertorials") published in the New York Times, about 80% expressed doubt that climate change is real and human-caused.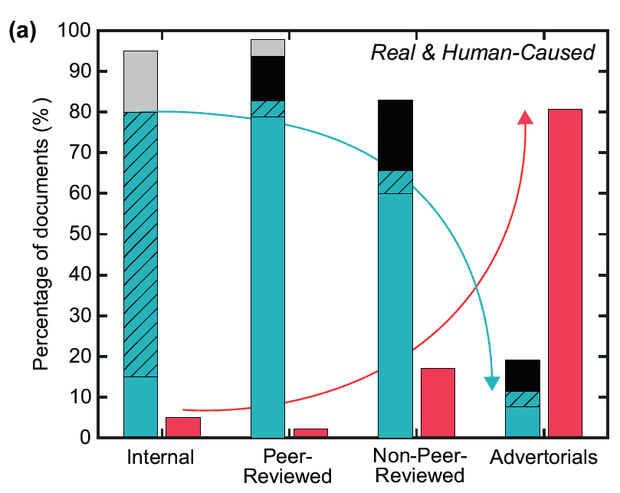 ---
Posted on 22 August 2017 by BaerbelW
Ten years ago, when Skeptical Science (SkS) first went live, John Cook had no inkling of what he had set in motion with the push of the proverbial button. Sifting through the material we have on SkS while putting this post together, I'm quite amazed at what our global team of volunteers has tackled and accomplished over the years. In this article, we'll take a look back and recount some of the pivotal moments in the history of SkS as it evolved from a personal database to a website reaching thousands of people around the globe each day.
As this turned into a fairly long post, you can jump to individual years via these links or the respective buttons:
---
---
Posted on 21 August 2017 by Zeke Hausfather
This is a re-post from Carbon Brief
With a total solar eclipse sweeping across North America, everyone is suddenly paying attention to the sun. One of the most common sceptical arguments against human-caused climate change is that changes in solar activity, rather than just CO2, is playing the biggest role.
At first glance, it seems to make intuitive sense: the sun is a massive nuclear fusion reactor a million times larger than Earth, it is responsible for almost all the energy reaching our planet, and in the past few decades scientists have learned that solar activity varies significantly over time. Indeed, changes in the distribution of sunlight reaching the Earth clearly change the temperature dramatically on a daily and annual timescale.
However, since 1970 global temperatures have shot up by almost 0.7 C, while the amount of solar energy reaching the Earth has actually declined. Similarly, the upper atmosphere is cooling while the lower atmosphere warms, a clear fingerprint of warming from greenhouse gases rather than the sun.
This evidence suggests we can rule out a major solar influence on recent warming.
Moving in opposite directions
Satellites have been directly monitoring the amount of the sun's energy reaching the Earth since the late 1970s. Before that, researchers kept careful records of the number of "sunspots", dark patches on the surface of the sun that are strongly related to solar output.
Combining older sunspot measurements with modern satellite observations, scientists have put together estimates of the sun's output – called Total Solar Irradiance, or TSI – for the past 400 years. There is still some debate around how much solar output changed in the past, with some reconstructions suggesting more variation than others.
The plot below shows the solar TSI reconstruction from Naval Research Laboratory Total Solar Irradiance-2 (NRLTSI2) model (red line) – one of the ones with larger changes in solar output over the past 150 years – alongside the surface temperature record jointly produced by the UK Met Office Hadley Centre and the Climatic Research Unit at the University of East Anglia (black line).
---
Posted on 20 August 2017 by John Hartz
Story of the Week... Editorial of the Week... El Niño/La Niña Update... Toon of the Week... Quote of the Week... Graphic of the Week... SkS in the News... SkS Spotlights... Video of the Week... Coming Soon on SkS... Poster of the Week... SkS Week in Review... 97 Hours of Consensus...
Story of the Week...
Should You Trust Climate Science? Maybe the Eclipse Is a Clue
Credit

Left: Agoes Rudianto/Anadolu Agency, via Getty Images; Right: Bettmann, via Getty Images
Eclipse mania will peak on Monday, when millions of Americans will upend their lives in response to a scientific prediction.
Friends of mine in Georgia plan to drive 70 miles to find the perfect spot on a South Carolina golf course to observe the solar eclipse. Many Americans will drive farther than that, or fly, to situate themselves in the "path of totality," the strip of the country where the moon is predicted to blot out the sun entirely.
Thanks to the work of scientists, people will know exactly what time to expect the eclipse. In less entertaining but more important ways, we respond to scientific predictions all the time, even though we have no independent capacity to verify the calculations. We tend to trust scientists.
Should You Trust Climate Science? Maybe the Eclipse Is a Clue by Justin Gillis, Climate, New York Times, Aug 18, 2017
---
Editorial of the Week...
How, then, might we interpret both the fear and wonder of this week's solar eclipse in a contemporary context?
I suggest we take it as a call to action on climate change. On Monday, Aug. 21 — or, by the Jewish calendar, the eve of Rosh Chodesh Elul, a month devoted to reflection and repentance — the source of life on Earth will, for a moment or two, go dark, from coast to coast across the world's most powerful nation. And then, just as scientifically predictably — and, at the same time, still miraculously — the light and warmth that sustain us will return. Let this awesome event serve as a reminder that unless we change our behavior as a species, in the future, we may not be so lucky. The damage that we are doing to our planet — and our own civilization — with our profligate devastation of Earth's natural systems is not so easily undone. May the temporary eclipse of the sun awaken us to the wisdom of philosopher and naturalist Kathleen Dean Moore: "To let the world slip away — the starfish and sea anemones, the green and fecund marshland, the glacial streams — to let it slip away because we're too busy, or too comfortable to change, is a sin against creation."
Let Monday's eclipse be a call to action on climate change, Opinion by Rabbi Dan Fink, Idaho Statesman, Aug 18, 2017
---
Posted on 19 August 2017 by John Hartz
Editor's Pick
July 2017 equaled record July 2016
A global map of the June 2017 LOTI (land-ocean temperature index) anomaly, relative to the 1951-1980 June average.
View larger image
.
July 2017 was statistically tied with July 2016 as the warmest July in the 137 years of modern record-keeping, according to a monthly analysis of global temperatures by scientists at NASA's Goddard Institute for Space Studies (GISS) in New York.
Last month was about 0.83 degrees Celsius warmer than the mean July temperature of the 1951-1980 period. Only July 2016 showed a similarly high temperature (0.82 °C), all previous months of July were more than a tenth of a degree cooler.
The GISTEMP monthly temperature anomalies superimposed on a 1980-2015 mean seasonal cycle. View
larger image
or
PDF
.
Starting with this update, the previously used ocean data set ERSST v4 was replaced by the newer ERSST v5. This contributed to the changes of some of the data in last month's update. For more information, see the Updates to Analysis and the History Pages.
The monthly analysis by the GISS team is assembled from publicly available data acquired by about 6,300 meteorological stations around the world, ship- and buoy-based instruments measuring sea surface temperature, and Antarctic research stations.
The modern global temperature record begins around 1880 because previous observations didn't cover enough of the planet. Monthly analyses are sometimes updated when additional data becomes available, and the results are subject to change.
July 2017 equaled record July 2016, NASA's Goddard Institute for Space Studies, Aug 15, 2017
---
Posted on 18 August 2017 by Riduna
The importance of oil should not be underestimated as an energy source – and a pollutant. Almost every form of transport is dependent on it and its refined products and the present economy would not have been created without it. Most of it is burned by vehicles propelled by the Internal Combustion Engine (ICE), enabling transport of people and goods world-wide. As the number of vehicles increases, so does demand for oil and its derivatives. Little wonder then that oil companies should regard their product as having a long, profitable and relatively secure future.
When it comes to talking about Peak Oil, we often think of it in terms of the point at which the yield from recoverable oil deposits begins to decline. With thawing in the Arctic, new oil deposits are likely to become available, giving the oil industry additional confidence that it will be able to sustain production for at least the next 50 years. Were the industry to think of Peak Oil in terms of the point at which demand for oil begins to decline, then its confidence in being able to sustain production for the next 50 years would seem misplaced for some, if not all kinds of oil.
FIVE GROUPS OF OIL PRODUCTION IN 2014

Oil Group

Production Bbl/day

Percent
Characteristics

Ultra Light

849,000
4.6
Often needs fracking to extract, accompanied by CO2/CH4 emissions of less than 475kg/bbl. Low energy needed for easy refining.

Light

9,432,000
51.1
CH4 Emissions of 475 - 510kg/bbl during extraction and transport of crude. Some flaring when refined. High demand.

Medium

6,594,000
35.7
Emission drivers include extraction, transport and refining, the latter needing higher energy and flaring.

Heavy

143,000
0.8
CH4 released during extraction and transport, flared during refining. CO2eq Emissions average >600 kg/bbl.

Extra Heavy

1,444,000
7.8
Tar-sand oil. CH4 produced by land use and oil extraction, as well as transport and refining. CO2eq Emissions average >670kg/bbl.

TOTAL:

18,462,000
100
Analysis relates to 25% of global oil production in 2014.
Table 1. Showing difference in characteristics of the 5 groups of oil produced. Source: Data derived from the Carnegie Oil Climate Index covering 25% of global production in 2014.
---
Posted on 16 August 2017 by Zeke Hausfather
This is a re-post from Carbon Brief
Before 2005, US carbon emissions were marching upwards year after year, with little sign of slowing down. After this point, they fell quickly, declining 14% from their peak by the end of 2016.
Researchers have given a number of different reasons for this marked turnaround. Some have argued that it was mainly due to natural gas and, to a lesser extent, wind both replacing coal for generating electricity. Others have suggested that the declines were driven by the financial crisis and its lasting effects on the economy.
Here Carbon Brief presents an analysis of the causes of the decline in US CO2 since 2005. There is no single cause of reductions. Rather, they were driven by a number of factors, including a large-scale transition from coal to gas, a large increase in wind power, a reduction in industrial energy use and changes in transport patterns.
Declines in US CO2 have persisted despite an economic recovery from the financial crisis. While the pace of reductions may slow, many of these factors will continue to push down emissions, notwithstanding the inclinations of the current administration.
Carbon Brief's analysis shows that in 2016…
Overall, CO2 emissions were around 18% lower than they would have been, if underlying factors had not changed, and 14% lower than their 2005 peak.
Coal-to-gas switching in the power sector is the largest driver, accounting for 33% of the emissions reduction in 2016.
Wind generation was responsible for 19% of the emissions reduction.
Solar power was responsible for 3%.
Reduced electricity use – mostly in the industrial sector – was responsible for 18%.
Without these changes, electricity sector CO2 emissions would have been 46% higher than they are today.
Reduced fuel consumption in homes and industry was responsible for an additional 12% of the overall emissions reductions.
Changes in transport emissions from fewer miles per-capita, more efficient vehicles, and less air travel emissions per-capita account for the final 15%.
---
Posted on 15 August 2017 by Guest Author
You should stick to what you know. And I know that I'm not serious.
My life may appear pretty earnest. You see, I was previously a researcher in atmospheric physics, and now work as a reporter at Nature where I cover the most serious issues facing modern research. To exacerbate the earnestness, I've been known to describe myself as a feminist, vegetarian environmentalist on dating apps.
But that's just one side of me. I also have an alter-ego. He's mischievous, lacks self-awareness, and is obsessed with climate change. He's called ClimateAdam, and he exists (mostly) on YouTube. Take a look:
---
Posted on 14 August 2017 by John Abraham
This is an unabashed endorsement of an important group. I have no affiliation with them or conflict of interest. They are great, period.
The ability to convey complex climate science to a wide-ranging audience is a golden attribute, something very few can achieve. This characteristic makes the Yale Climate Connections group unique.
The Yale Climate Connections effort comprises several interrelated efforts whose end result is captivating science education for the rest of us.
What is most exciting to me are their daily radio spots that focus on a current issue of climate change. The Yale group includes a team of editors, radio producers, and freelance reporters nationwide to record and post short (90-second) spots that are both interesting and informative.
From someone who works in climate communication, I am surprised that a group can have this high of a throughput. It means your reporters have to be identifying relevant topics, finding experts to interview, learning enough to ask informed questions, and then perform audio edits. And this happens five days a week. The breadth and width of the topics can be seen at the group's website. The radio spots are currently carried on almost 350 radio stations across North America and are hosted by Dr Anthony Leiserowitz, well known for his research on public opinions related to climate change, the "Six Americas."
---
Posted on 13 August 2017 by John Hartz
Story of the Week... Editorial of the Week... Toon of the Week... Quote of the Week... SkS in the News... Photo of the Week... SkS Spotlights... Video of the Week... Reports of Note... Coming Soon on SkS... Poster of the Week... Climate Feedback Reviews... SkS Week in Review... 97 Hours of Consensus...
Story of the Week...
Reporting on the State of the Climate in 2016
International report confirms 2016 was third consecutive year of record global warmth
Malawian Subsistence Farmer, Reuters, Mike Hutchings
A new State of the Climate report confirmed that 2016 surpassed 2015 as the warmest year in 137 years of recordkeeping.
Major indicators of climate change continued to reflect trends consistent with a warming planet. Last year's record heat resulted from the combined influence of long-term global warming and a strong El Niño early in the year. The report found that the major indicators of climate change continued to reflect trends consistent with a warming planet. Several markers such as land and ocean temperatures, sea level, and greenhouse gas concentrations in the atmosphere broke records set just one year prior.
These key findings and others are available from the State of the Climate in 2016 report released online today by the American Meteorological Society (AMS).
The 27th annual issuance of the report, led by NOAA National Centers for Environmental Information, is based on contributions from nearly 500 scientists from more than 60 countries around the world and reflects tens of thousands of measurements from multiple independent datasets. It provides a detailed update on global climate indicators, notable weather events, and other data collected by environmental monitoring stations and instruments located on land, water, ice, and in space.
The report's climate indicators show patterns, changes, and trends of the global climate system. Examples of the indicators include various types of greenhouse gases; temperatures throughout the atmosphere, ocean, and land; cloud cover; sea level; ocean salinity; sea ice extent; and snow cover.
Reporting on the State of the Climate in 2016, NOAA's National Centers for Environmental Information, Aug 10, 2017
Related Links
---
Posted on 12 August 2017 by John Hartz
Editor's Pick
NOAA confirms 2016 as hottest year on record for the planet
The federal government confirmed 2016 as the planet's warmest year on record, according to a report released Thursday by the National Oceanic and Atmospheric Administration.
The combined influence of long-term global warming and a strong El Niño early in the year led to last year's all-time record heat, NOAA said.
While El Niño is a natural warming of Pacific Ocean water, man-made global warming is caused by greenhouse gases released into the atmosphere from the burning of fossil fuels such as oil, gas and coal.
The amount of carbon dioxide, one of the main greenhouse gases, in the atmosphere climbed to its highest level in 800,000 years, the report found.
The report also noted other signs of a warming planet in 2016:
Greenhouse gases were the highest on record.
Sea-surface temperatures were the highest on record.
Global upper ocean heat content near-record high.
Global sea level was the highest on record.
Antarctic had a record low sea ice extent.
Known as the State of the Climate, the annual report is prepared by more than 450 scientists from more than 60 countries around the world and published in conjunction with the American Meteorological Society. It's the most comprehensive annual summary of Earth's climate.
NOAA confirms 2016 as hottest year on record for the planet by Doyle Rice, USA Today, Aug 10, 2017
---
Posted on 11 August 2017 by dana1981
2014, 2015, and 2016 each broke the global temperature record. A new study led by climate scientist Michael Mann just published in Geophysical Research Letters used climate model simulations to examine the odds that these records would have been set in a world with and without human-caused global warming. In model simulations without a human climate influence, the authors concluded:
There's a one-in-a-million chance that 2014, 2015, and 2016 would each have been as hot as they were if only natural factors were at play.
There's a one-in-10,000 chance that 2014, 2015, and 2016 would all have been record-breaking hot years.
There's a less than 0.5% chance of three consecutive record-breaking years happening at any time since 2000.
There's a 0.1%–0.2% chance of 2016 being the hottest on record.
To put those numbers in perspective, you have about a one-in-3,000 (0.03%) chance of being struck by lightning in your lifetime. You have about as much chance of being struck by lightning this year as 2014, 2015, and 2016 each being as hot as they were due solely to natural effects. That means denying human-caused global warming is like planning to be struck by lightning three years in a row. Perhaps a tinfoil hat will help.
On the other hand, in model simulations accounting for human-caused global warming, the odds of these events goes up substantially:
---
Posted on 9 August 2017 by BaerbelW
Many of you will - hopefully! - be aware of the short URLs included on the Fixed-number list which lead to our rebuttals. They all have the format of "http://sks.to/" + [key word]. So, if you know that the key word for the rebuttal to "It's the sun" is "sun", you can build the link quickly by combining our short link and the key word to http://sks.to/sun. These short URLs come in handy on social media but also in comments sections and the full list is also available in a handy chart:
What you may not yet know is that we also have short URLs for many other targets, be it for some of our own blog posts, some graphics or papers. This article will be used to list some of those URLs we keep using ourselves frequently. Please feel free to use them as well!
List of short URLs
---
Posted on 8 August 2017 by Guest Author
Global Weirding is produced by KTTZ Texas Tech Public Media and distributed by PBS Digital Studios. New episodes every other Wednesday at 10 am central. Brought to you in part by: Bob and Linda Herscher, Freese and Nichols, Inc, and the Texas Tech Climate Science Center.
---
Posted on 7 August 2017 by John Abraham
Fossil fuels have two major problems that paint a dim picture for their future energy dominance. These problems are inter-related but still should be discussed separately. First, they cause climate change. We know that, we've known it for decades, and we know that continued use of fossil fuels will cause enormous worldwide economic and social consequences.
Second, fossil fuels are expensive. Much of their costs are hidden, however, as subsidies. If people knew how large their subsidies were, there would be a backlash against them from so-called financial conservatives.
A study was just published in the journal World Development that quantifies the amount of subsidies directed toward fossil fuels globally, and the results are shocking. The authors work at the IMF and are well-skilled to quantify the subsidies discussed in the paper.
Let's give the final numbers and then back up to dig into the details. The subsidies were $4.9 tn in 2013 and they rose to $5.3 tn just two years later. According to the authors, these subsidies are important because first, they promote fossil fuel use which damages the environment. Second, these are fiscally costly. Third, the subsidies discourage investments in energy efficiency and renewable energy that compete with the subsidized fossil fuels. Finally, subsidies are very inefficient means to support low-income households.
With these truths made plain, why haven't subsidies been eliminated? The answer to that is a bit complicated. Part of the answer to this question is that people do not fully appreciate the costs of fossil fuels to the rest of us. Often we think of them as all gain with no pain.
So what is a subsidy anyway? Well, that too isn't black and white. Typically, people on the street think of a subsidy as a direct financial cost that result in consumers paying a price that is below the opportunity cost of the product (fossil fuel in this case). However, as pointed out by the authors, a more correct view of the costs would encompass:
---
Posted on 6 August 2017 by John Hartz
Story of the Week... Toon of the Week... Quote of the Week... Graphic of the Week... SkS Spotlights... Video of the Week... Coming Soon on SkS... Poster of the Week... Climate Feedback Reviews... SkS Week in Review... 97 Hours of Consensus...
Story of the Week...
More Hot Days Are Coming With Climate Change. Our Choices Will Decide How Many
Summer still has a month to go, but extreme heat has been a major storyline through June and July. Sweltering temperatures have grounded planes, sparked wildfires and set records from coast-to-coast.
These stories are becoming annual rites of passage as the world warms. And the number of hot days is projected to increase in the coming decades.
Climate Central has developed a new web-interactive tool that brings the reality of future heat to hometowns across the U.S. Simply enter the name of your city, town or hamlet — or any place in the Lower 48 that piques your curiosity — to see how the number of days above summer temperature thresholds will change throughout the rest of the century. The interactive also shows how reducing greenhouse gas emissions can help reduce the heat.
More Hot Days Are Coming With Climate Change. Our Choices Will Decide How Many, Research Report by Climate Central, Aug 3, 2017
---
Posted on 5 August 2017 by John Hartz
Editor's Pick
A History of Global Warming, In Just 35 Seconds
Last year, there was the temperature spiral. This year, it's the temperature circle that's making the trend of global warming crystal clear.
A new video shows the rhythm of global warming for countries around the world, from Afghanistan to Zimbabwe. Bars representing each country's annual average temperature anomaly pulse up and down. It's like watching a heartbeat on a monitor.
Rather than staying steady like a normal heartbeat, it's clear that temperatures for more than 100 countries are climbing ever higher on the back of increasing carbon pollution. While there are individual variations in how hot any year is, the signal of climate change is unmistakable.
"There are no single countries that clearly stand out from the graph," said Antti Lipponen, a physicist at the Finnish Meteorological Institute who made the graphic. "The warming really is global, not local."
While the temperature spiral showed the global average temperature, Lipponen's animation uses NASA data to show individual countries separated by regions. The format invites you to look for your country or the place you took your vacation last year.
But step back to look at the graphic as a whole and it's clear we're all in this together. No country is immune from rising temperatures, let alone the other impacts of climate change.
It's also clear that global warming is accelerating. In the past three decades (which starts around the 14-second mark in the video), the bars start pushing further and further from the center. Cooler-than-normal years start to become more rare and by the 1990s, they've almost disappeared completely.
The past three years have been the hottest ones ever recorded. A number of countries were more than 2°C warmer than the 1951-1980 baseline used in the graphic. That puts them well above the warming limit enshrined in the Paris Agreement, serving as a warning of how fast we're pushing into new territory.
The world itself touched 1.5°C above pre-industrial levels for a few months in 2016. If global warming permanently crosses that threshold, it will likely cause small island states to be swallowed by the sea, coral to die and heat waves to become more common and severe.
Those numbers alone are abstract, though. Even plotted on a line graph, they fail to fully convey the trajectory we're on.
Lipponen said he made the animation because he wanted a "nice looking, clear, and informative" way to convey that information in a way people can understand. Mission accomplished.
A History of Global Warming, In Just 35 Seconds by Brian Kahn, Climate Central, Aug 2, 2017
---
---
Posted on 3 August 2017 by John Abraham
If you are like me, you picture the Amazon region as an ever lush, wet, tropical region filled with numerous plant and animal species. Who would imagine the Amazon experiencing drought? I mean sure, if we think of drought as "less water than usual," then any place could have a drought. But what I tend to envision with respect to drought is truly dry.
People who work in this field have a more advanced understanding than I do about drought, how and why it occurs, its frequency and severity, and the impact on natural and human worlds. This recognition brings us to a very interesting paper recently published in Scientific Reports, entitled Unprecedented drought over tropical South America in 2016: significantly under-predicted by tropical SST[sea surface temperature]. So, what did this paper show?
Well, the Amazon region does encounter periodic droughts. There was one in 2005, another in 2010, both of which were 100-year events, and the most recent one in 2015-2016. The authors of this study, Amir Erfanian, Guiling Wang, and Lori Fomenko, all from the University of Connecticut, measured drought in three ways. They quantified the precipitation deficits and water storage on the ground. They also used two different vegetation measures of drought. The results showed that the most recent drought was unprecedented in severity. The video below shows a brief visual overview of the findings of this paper:

---
Posted on 2 August 2017 by Zeke Hausfather
This is a re-post from Carbon Brief
Last month, California's politicians agreed a new cap-and-trade bill to help curb the state's emissions. This week, governor Jerry Brown signed it into law, representing a major step forward in the state's effort to combat climate change.
"Cap and trade" requires large emitters such as power plants, refineries and factories to buy permits for the greenhouse gases they release. Distributors of natural gas, gasoline, liquid petroleum gas, and diesel fuels must cover emissions from fuels they sell. The scheme limits the total number of permits available so that overall emissions stay within the cap.
California, one the US's largest emitting states, has committed to reduce its emissions to 1990 levels by 2020, to 40% below 1990 levels by 2030 and to 80% below 1990 levels by 2050.
While it is on track to meet its 2020 goals, California's reductions will have to ramp up dramatically to meet its 2030 and 2050 targets. The new cap-and-trade system is expected to play a major role in meeting these ambitious targets.
Here, Carbon Brief explains how the scheme will work.
---
Posted on 1 August 2017 by howardlee
Coincidence doesn't prove causality, as they say, but when the same two things happen together over and over again through the vast span of geological time, there must be a causal link. Of some 18 major and minor mass extinctions since the dawn of complex life, most happened at the same time as a rare, epic volcanic phenomenon called a Large Igneous Province (LIP). Many of those extinctions were also accompanied by abrupt climate warming, expansion of ocean dead zones and acidification, like today.
Earth's most severe mass extinction, the "Great Dying," began 251.94 million years ago at the end of the Permian period, with the loss of more than 90% of marine species. Precise rock dates published in 2014 and 2015 proved that the extinction coincided with the Siberian Traps LIP, an epic outpouring of lava and intrusions of underground magma covering an area of northern Asia the size of Europe.
But those rock dates presented science with a new puzzle: why was the mass extinction event much shorter than the eruptions? And why did the extinction happen some 300,000 years after the lava began to flow?
Now in a new study published in Nature Communications, Seth Burgess of the US Geological Survey, along with James Muirhead of Syracuse University and Samuel Bowring of MIT, think they have the answer. As Burgess told me: