An ice sheet forms when snow falls on land, compacts into ice, and forms a system of interconnected glaciers which gradually flow downhill like play-dough. In Antarctica, it is so cold that the ice flows right into the ocean before it melts, sometimes hundreds of kilometres from the coast. These giant slabs of ice, floating on the ocean while still attached to the continent, are called ice shelves.
For an ice sheet to have constant size, the mass of ice added from snowfall must equal the mass lost due to melting and calving (when icebergs break off). Since this ice loss mainly occurs at the edges, the rate of ice loss will depend on how fast glaciers can flow towards the edges.
Ice shelves slow down this flow. They hold back the glaciers behind them in what is known as the "buttressing effect". If the ice shelves were smaller, the glaciers would flow much faster towards the ocean, melting and calving more ice than snowfall inland could replace. This situation is called a "negative mass balance", which leads directly to global sea level rise.
Ice shelves are perhaps the most important part of the Antarctic ice sheet for its overall stability. Unfortunately, they are also the part of the ice sheet most at risk. This is because they are the only bits touching the ocean. And the Antarctic ice sheet is not directly threatened by a warming atmosphere – it is threatened by a warming ocean.
The atmosphere would have to warm outrageously in order to melt the Antarctic ice sheet from the top down. Snowfall tends to be heaviest when temperatures are just below 0°C, but temperatures at the South Pole rarely go above -20°C, even in the summer. So atmospheric warming will likely lead to a slight increase in snowfall over Antarctica, adding to the mass of the ice sheet. Unfortunately, the ocean is warming at the same time. And a slightly warmer ocean will be very good at melting Antarctica from the bottom up.
---
Posted on 22 January 2015 by John Hartz
Al Gore: oil companies 'use our atmosphere as an open sewer'
It's not possible to listen to petroleum industry executives defending their reckless extraction of oil without feeling that we are living in an age of madness.
In a recent private conversation under the Chatham House rule, one of the world's most senior industry leaders, who is considered to be at the more moderate end of the spectrum, insisted that we are going to burn all the world's hydrocarbons despite the consequences.
His reasoning is that a growing population in the developing world needs energy to raise living standards, that renewables will not become a dominant energy source till the end of the century and that politicians don't have the courage or power to limit production.
He acknowledged that the burning of all reserves would almost certainly lead to temperature rises of up to 4C, but argued the best way forward is to focus on limiting the damage through such technologies as carbon capture and storage.
Al Gore: oil companies 'use our atmosphere as an open sewer' by Jo Confino, The Guardian, Jan 21, 2015
---
---
Posted on 22 January 2015 by John Abraham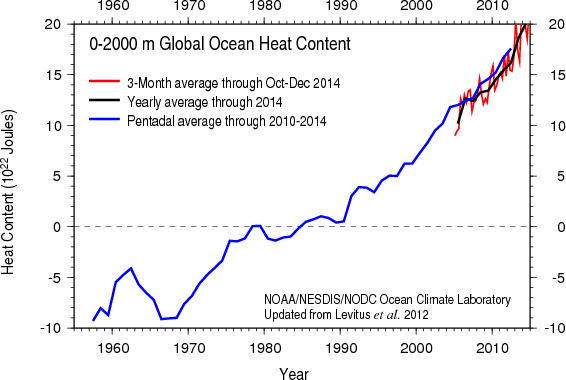 Wow, was this a bad year for those who deny the reality and the significance of human-induced climate change. Of course, there were the recent flurry of reports that 2014 surface temperatures had hit their hottest values ever recorded. The 2014 record was first called on this blog in December and the final results were reported as well, here. All of this happened in a year that the denialists told us would not be very hot.
But those denialists are having a tough time now as they look around the planet for ANY evidence that climate change is not happening. The problem is, they've been striking out.
---
Posted on 21 January 2015 by dana1981
Have you ever watched a zombie movie and wondered if the protagonists will grow physically tired from having to repeatedly kill zombies that inevitably rise once again from the dead? That's how people often feel when confronted with climate change myths that were debunked years ago. These myths never seem to stay dead, inevitably being revived by climate contrarians no matter how conclusively and repeatedly they've been debunked.
And so we have writer Matt Ridley once again published in the London Times complaining, "Rather than attack my arguments, my critics like to attack my motives." That's undoubtedly because when an individual keeps repeating the same myths over and over again, people eventually grow tired of debunking those myths and naturally question the motives of the individual who keeps making them.
Let's look at a few examples from Ridley's latest article. He claims not to be worried about global warming for a few reasons, including,
The failure of the atmosphere to warm anywhere near as rapidly as predicted was a big reason: there has been less than half a degree of global warming in four decades - and it has slowed down, not speeded up.
This is incorrect – average global surface temperatures have warmed between 0.6 and 0.7°C over the past 40 years (lower atmospheric temperatures have also likely warmed more than 0.5°C, though the record hasn't yet existed for 40 years). During that time, that temperature rise has temporarily both slowed down (during the 2000s, when there was a preponderance of La Niña events) and sped up (during the 1990s, when there was a preponderance of El Niño events). Climate models accurately predicted the long-term global warming trend. Ridley continues,
---
Posted on 20 January 2015 by John Hartz
SkS Highlights
Dana's Global warming made 2014 a record hot year – in animated graphics received the highest number of comments of the articles posted on SkS during the past week.
Comments Policy Update
The SkS Comments Policy was amended with the addition of the following sentence.
Moderation complaints are always off topic and will be deleted.
El Niño Watch
There has been a lot of buzz over the last few months of an El Nino taking shape across the globe. These often bring wet conditions to the southern and western U.S. and warmer conditions to the state of Minnesota. But recent observations are showing that our El Nino may not even happen.
There are many different ways to measure if an El Nino is occurring, but the main way is to measure sea surface temperatures in the equatorial Pacific… it's this area that is often most affected by an El Nino event. Well, the latest trends aren't promising…
Our El Nino year may not happen by Cody Matz KMSP (Detroit), Jan 18, 2015
As colder than seasonal temperatures have taken hold across Canada this winter, you may be asking, "Where is El Niño?" The answer is that El Niño conditions are already in place in the Pacific, but not all El Niños are created equal. Analysis of current conditions shows how this year's unique flavour of El Niño will help keep some parts of Canada warm, while others will remain in the deep freeze.
El Niño update explains impact on Canada in months to come by Michael Carter, The Weather Newtwork, Jan 16, 2015
Toon of the Week
---
Posted on 19 January 2015 by John Cook
On 7 September 2014, we launched 97 Hours of Consensus. Every hour for 97 consecutive hours, we published a cartoon of a climate scientist with a quote about climate change. We also published a very cool interactive webpage. Our purpose: to raise awareness of the scientific consensus on human-caused global warming.
The series was an amazing success. We reached millions of people through social and mainstream media, including President Obama tweeting about 97 hours to 43 million followers:
On 7 September 2015, we're repeating 97 Hours of Consensus with another 97 climate scientists. But with a different approach. This time, we're asking climate scientists to submit their quotes to us. So this is my call to action to the climate science community. If you're a climate scientist who:
has something to say about the issue of human-caused global warming,
and is interested in your words reaching millions of people,
and would like to be drawn in cartoon form
then submit your quote in our 97 Hours of Consensus Submission Form.
---
Posted on 17 January 2015 by John Hartz
2014 breaks heat record, challenging global warming skeptics
Last year was the hottest on earth since record-keeping began in 1880, scientists reported on Friday, underscoring warnings about the risks of runaway greenhouse-gas emissions and undermining claims by climate-change contrarians that global warming had somehow stopped.
Extreme heat blanketed Alaska and much of the Western United States last year. Records were set across large areas of every inhabited continent. And the ocean surface was unusually warm virtually everywhere except near Antarctica, the scientists said, providing the energy that fueled damaging Pacific storms.
In the annals of climatology, 2014 surpassed 2010 as the warmest year. The 10 warmest years have all occurred since 1997, a reflection of the relentless planetary warming that scientists say is a consequence of human activity and poses profound long-term risks to civilization and nature.
2014 breaks heat record, challenging global warming skeptics by Justin Gillis, New York Times, Jan 16, 2015
---
---
Posted on 17 January 2015 by dana1981
But what's really remarkable is that 2014 set this record without the aid of an El Niño event. El Niño events create conditions in which sea surface and hence global surface temperatures are anomalously hot. We call this part of the Earth's "internal variability" because these events just temporarily shift heat around between the ocean surface and its depths.
As this graphic shows (click here for an animated version), the last five record hot years of 2010, 2005, 1998, 1997, and 1995 were all assisted by El Niño events.
---
Posted on 15 January 2015 by Kevin C
The surface thermometer record forms a key part of our knowledge of the climate system. However it is easy to overlook the complexities involved in creating an accurate global temperature record from historical thermometer readings. If the limitations of the thermometer record are not understood, we can easily draw the wrong conclusions. I reevaluated a well known climate sensitivity calculation and found some new sources of uncertainty, one of which surprised me.
This highlights two important issues. Firstly the thermometer record (while much simpler than the satellite record) requires significant expertise in its use - although further work from the record providers may help to some extent. Secondly, the policy discussion, which has been centered on the so called 'warming hiatus', has been largely dictated by the misinformation context, rather than by the science.
At the AGU fall meeting I gave a talk on some of our work on biases in the instrumental temperature record, with a case study on the implications from a policy context. The first part of the talk was a review of our previous work on biases in the HadCRUT4 and GISTEMP temperature records, which I won't repeat here. I briefly discussed the issues of model-data comparison in the context of the CMIP-5 simulations, and then looked at a simple case study on the application of our results.
The aim of doing a case study using our data was to ascertain whether our work had any implications beyond the problem of obtaining unbiased global temperature estimates. In fact repeating an existing climate sensitivity study revealed a number of surprising issues:
Climate sensitivity is affected by features of the temperature data which were not available to the original authors.
It is also affected by features of the temperature record which we hadn't considered either, such as the impact of 19th century ship design.
The policy implications of our work have little or nothing to do with the hiatus.
The results highlight the fact that significant expertise is currently required to draw valid conclusions from the thermometer record. This represents a challenge to both providers and users of temperature data.
Background
Let's start by looking at the current version of our temperature reconstruction, created by separate infilling of the Hadley/CRU land and ocean data. The notable differences are that our reconstruction is warmer in the 2000's (due to rapid arctic coverage), and around 1940, and cooler in the 19th century due to poor coverage in HadCRUT4 (figure 1).
---
Posted on 14 January 2015 by John Abraham
In a paper I just published with colleague Dr. Ted Scambos from the National Snow and Ice Data Center, we highlight the impact of southern ice sheet loss, particularly the West Antarctic Ice Sheet on sea-level rise around the world.
We know that human emissions of greenhouse gases are causing the Earth's temperature to rise and are creating other changes across the Earth's climate system. One change that gets a great deal of attention is the current and future rates of sea-level rise. A rising sea level affects coastal communities around the world; approximately 150 million people live within 1 meter of current sea level.
The waters are rising because of a number of factors. First, water expands as it warms. In the past, this "thermal expansion" was the largest source of sea-level rise. But as the Earth's temperatures continued to increase, another factor (melting ice, particularly from large ice sheets in Greenland and Antarctica) has played an ever increasing role.
In the Southern Hemisphere, the largest player is the Western Antarctic Ice Sheet (WAIS). It is less stable than Eastern Antarctica and is particularly vulnerable to melting from below by warmed ocean waters. Scientists are closely watching the ice near the edges of the WAIS because they buttress large volumes of ice that are more inland. When these buttressing ice shelves melt, the ice upstream will slide more rapidly toward the ocean waters.
As reported in our paper, according to some studies, "no further acceleration of climate change and only modest extrapolations of the current increasing mass loss rate are necessary for the system to eventually collapse ... resulting in 1-3 m of sea-level rise." And this is from just one component of the great southern sheets.