On June 14th, an Arizona court ruled that thousands of emails from two prominent climate scientists must be turned over to the Energy & Environment Legal Institute (E&E), a group that disputes the 97% expert consensus on human-caused climate change and argues against action to confront it. E&E and its attorneys are funded by Peabody Coal, Arch Coal, and Alpha Natural Resources, coal corporations with billions of dollars in revenue.
Formerly named the American Tradition Institute, E&E has been described as "filing nuisance suits to disrupt important academic research."
---
Posted on 6 July 2016 by Guest Author
by

Robert Kopp, Rutgers University
Last December in Paris, the nations of the world agreed to an ambitious goal for greenhouse gas emissions: to bring net emissions to zero in the second half of this century. Their objective: to limit global warming to 1.5 to 2 degrees Celsius (2.7 to 3.6 degrees Fahrenheit) above preindustrial temperatures, or equivalently about 0.5 to 1.0°C (0.9 to 1.8°F) above the current global average temperature.
The Paris Agreement set up a process by which countries commit to emissions targets and then, every five years, report on their progress and make increasingly stringent new commitments. Current national commitments, which lay out targets for the 2025-2030 time frame, aren't enough to get us to the long-term goal. But the current commitments and the new process constitute a major step toward breaking the dangerous fossil fuel addiction of the last two centuries.
Market forces and public policy in the U.S. and around the world are already helping push the world away from carbon-intensive fuels and toward renewable energy. U.S. carbon dioxide emissions peaked in 2007, and it's possible that Chinese emissions peaked in 2014. This market-led, policy-accelerated shift is making reduction goals more attainable than they seemed a decade ago.
Donald Trump's "America First" energy plan, outlined in May and focused on expanding fossil-fuel production, would reverse these advances. Trump has promised to "cancel" the Paris climate agreement and pledged to reopen coal mines – a pledge which, given the unfavorable economics of coal mining, he could fulfill only through a massive expansion of corporate welfare for coal companies.
Backing out of the Paris Agreement would undermine U.S. leadership and stall greenhouse gas reduction efforts around the world. And expanding production of coal could return us to the pathway of rapidly rising emissions that characterized the 2000s.
The climate consequences of such a great leap backwards would be severe. Far from placing America first, they would threaten the health of Americans and of the American economy – not to mention people and economies throughout the world.
Different pathways
Two years ago, I co-led an analysis of several key climate-change-related risks facing the United States. Our team used state-of-the-art climate and economic models to assess multiple scenarios for the current century.
These scenarios, developed by the international climate modeling community, include a high-emissions future with expanded fossil fuel use and a low-emissions future in which, consistent with the aspirations of the Paris agreement, emissions go to zero in the second half of this century. Comparing the highest and lowest scenarios – let's call them the Trump Trajectory and the Paris Path – provides a sense of the risks Donald Trump's energy policy poses to our country and the planet.
Using the high scenario as a proxy for Trump's policy, what changes could we expect?
Carbon dioxide concentrations in Earth's atmosphere will average about 404 parts per million (ppm) this year. While the Paris Path would keep them from rising above 450 ppm, the Trump Trajectory would elevate them over 550 ppm in the 2050s and – if policies consistent with rapid expansion of fossil fuel production were maintained – over 900 ppm in the 2090s.
---
Posted on 5 July 2016 by dana1981
Scientists use a variety of approaches to estimate the Earth's climate sensitivity – how much the planet will warm as a result of humans increasing greenhouse effect. For decades, the different methods were all in good general agreement that if we double the amount of carbon dioxide in the atmosphere, Earth's surface temperatures will immediately warm by about 1–3°C (this is known as the 'transient climate response'). Because it would take decades to centuries for the Earth to reach a new energy balance, climate scientists have estimated an eventual 2–4.5°C warming from doubled atmospheric carbon (this is 'equilibrium climate sensitivity').
However, a 2013 paper led by Alexander Otto disrupted the agreement between the various different approaches. Using a combination of recent climate measurements and a relatively simple climate model, the 'energy budget' approach used in Otto's study yielded a best estimate for the immediate (transient) warming of 1.3°C and equilibrium warming of 2.0°C; within the agreed range, but less than climate model best estimates of 1.8°C and 3.2°C, respectively.
This new energy budget approach, which was replicated by several subsequent studies, seemed to indicate the Earth's climate is a bit less sensitive to carbon pollution than previously thought. As a result, the IPCC adjusted its estimated range for equilibrium climate sensitivity from 2–4.5°C in its 2007 report to 1.5–4.5°C in its 2014 report. This suggested perhaps a slightly less dire climate situation.
New finding: disagreement due to apples-to-oranges comparison

Later in 2013, Kevin Cowtan and Robert Way published a paper finding that climate scientists had been underestimating global surface warming, largely because of a lack of measurements in the rapidly-warming Arctic. Additionally, while climate models simulate surface air temperatures (the temperature of the air a few meters above the Earth's surface), over the oceans, climate scientists measure sea surface temperatures. It turns out that the water surface isn't warming quite as fast as the air above it. Thus looking at modeled surface air temperatures versus measured global land-ocean surface temperatures is an apples-to-oranges comparison.
A new study in Nature Climate Change led by Mark Richardson in collaboration with Kevin Cowtan, Ed Hawkins, and Martin Stolpe accounts for these differences to make an apples-to-apples comparison. They find that the use of sea surface temperatures biases the Otto result low by about 9%, and the lack of Arctic observations by another 15%. When observations are adjusted to estimate surface air temperatures (red bars in the figure below), or when models are adjusted to estimate land-ocean surface temperatures (blue bars), the estimated transient climate response from climate models and the Otto approach are in close agreement.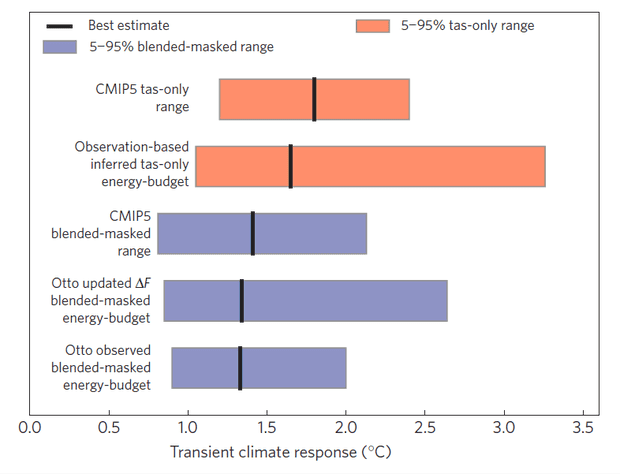 ---
Posted on 3 July 2016 by John Hartz
SkS Highlights... Toon of the Week... Quote of the Week... Internet Buzz... Graphic of the Week... SkS Spotlights... Coming Soon on SkS... Poster of the Week... SkS Week in Review... 97 Hours of Consensus...
SkS Highlights
The inter-generational theft of Brexit and climate change by Dana Nuccitelli (Climate Consensus - the 97%, Guardian) attacted the highest number of comments of the articles posted on SkS during the past week.
Today's edition of the Weekly Digest contains two new sections -- Internet Buzz by David Kirtley and Graphic of the Week. Be sure to check them out.
Toon of the Week
Hat tip to I Heart Climate Scientists