A new two-part study published in Climatic Change by a team of scientists led by Stephan Lewandowsky examines mathematically what happens to the risks posed by climate change when the scientific uncertainty increases. Part 1 of the study explores two important points.
First, the probable range of climate sensitivity to the increased greenhouse effect isn't symmetrical. Instead, based on the available evidence and research, it's more likely that we'll see a large amount of global warming than a small amount in response to rising carbon emissions. By itself, this means that more climate uncertainty translates into an even bigger risk of painful consequences than relatively benign consequences. More uncertainty means a slightly better chance of the low warming outcomes, but it also means an even bigger chance of the high warming outcomes, because the scientific data have a harder time ruling those out.
The second critical point is that economic models agree that once we reach a certain tipping point, the costs of climate damage increase at an accelerating rate. The models don't agree on exactly where that tipping point lies, but they do agree on the shape of the curve and the acceleration of the climate damage costs once we pass that tipping point (even the 'skeptics' agree on this).
---
Posted on 4 April 2014 by dana1981
On March 8th, 2014, I participated in a Faith and Climate Forum near Sacramento, California. The event was co-sponsored by the Sacramento chapter of Citizens Climate Lobby (CCL), of which I'm a member. CCL is a non-partisan grassroots organization whose goal is to build the political will to maintain a liveable climate, specifically through a revenue-neutral carbon tax.
Another Sacramento CCL chapter member, Christine Bailey organized this event, bringing together local faith leaders and CCL members to speak about the importance of addressing climate change. The event began with local leaders of various religions including Presbyterian, Buddhist, Islamic, and Jewish faiths speaking about the importance of preserving a liveable climate for each of their religions. I was asked to follow these speakers to talk about the science, and I gave what I called 'a climate science crash course'. Videographer Brian McKinsey recorded the event, and the whole thing can be viewed on his YouTube page. My talk can be viewed below, and the Powerpoint slides can be downloaded here (8.5 MB, without Andy Lee Robinson's Arctic sea ice cubes video) and here (16.5 MB with the video).
---
Posted on 3 April 2014 by John Abraham
Much has been made about the Earth's energy imbalance (extra energy absorbed by the Earth). It is clear the Earth is out of balance, in laypersons' terms, it has a "fever". What isn't clear is how bad the fever is. A new study by Dr. Matt Palmer and Dr. Doug McNeall moves us closer to answering this "fever" question.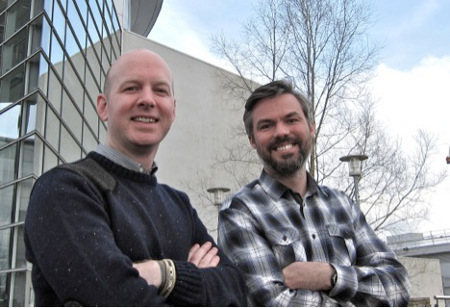 Matt Palmer and Doug McNeall
These scientists used data from the latest group of climate computer models (CMIP5) to look at the relationships between the energy flows at the top of the atmosphere, the surface temperature of the Earth, and changes in ocean energy. They made (in my mind), three important conclusions.
---
Posted on 2 April 2014 by John Hartz
4 takeaways from report reveal worsening impacts of climate change
The first installment of the Intergovernmental Panel on Climate Change's (IPCC) Fifth Assessment Report (AR5)—released in September—confirmed the overwhelming scientific consensus that the world is warming, largely due to human activities. The Working Group II (WGII) report, released today, takes this finding a step further: Not only is climate change happening, but every continent on earth is now experiencing its impacts.
Four major takeaways from the report showcase the impacts we're already seeing, as well as those projected to occur if the world continues to warm. And more importantly, they reveal a critical message: As John P. Holdren, director of the White House Office of Science and Technology Policy, put it, the report "underscores the need for immediate action in order to avoid the most severe impacts of climate change."
4 Takeaways from IPCC Report Reveal Worsening Impacts of Climate Change by C. Forbes Tompkins and Kelly Levin, World Resources Institute (WRI). Mar 30, 2014
---
Posted on 2 April 2014 by howardlee
The Permian Mass Extinction 251.9 million years ago, otherwise known as "The Great Dying," was the closest this planet has come to extinguishing all complex life on Earth. Around 90% of all species died out in this single event, a worse toll even than the Cretaceous extinction that wiped out the dinosaurs.
For years the cause of the Permian Mass Extinction has been linked to massive volcanic eruptions in Siberia. Volcanic CO2 and a cocktail of noxious gasses combined with burning coal and geothermally-baked methane emissions to enact a combination of toxic effects and, most importantly, ocean acidification and global warming. It led to a world where equatorial regions and the tropics were too hot for complex life to survive. That's a fact so astonishing it bears repeating: global warming led to a large portion of planet Earth being lethally hot on land and in the oceans! The cascading extinctions in ecosystems across the planet unfolded over 61,000 years, and it took 10 million years for the planet to recover! For comparison, our distant ancestors separated from apes only 7 million years ago.
Until recently the scale of the Permian Mass Extinction was seen as just too massive, its duration far too long, and dating too imprecise for a sensible comparison to be made with today's climate change. No longer.
In "High-precision timeline for Earth's most severe extinction," published in PNAS on February 10, authors Seth Burgess, Samuel Bowring, and Shu-zhong Shen employed new dating techniques on Permian-Triassic rocks in China, bringing unprecedented precision to our understanding of the event. They have dramatically shortened the timeframe for the initial carbon emissions that triggered the mass extinction from roughly 150,000 years to between 2,100 and 18,800 years. This new timeframe is crucial because it brings the timescale of the Permian Extinction event's carbon emissions shorter by two orders of magnitude, into the ballpark of human emission rates for the first time.
How does this relate to today's global warming?
Climate and CO2 have changed hand-in-hand through most of geological time. Mostly these changes happened slowly enough that the long-term feedbacks of Earth's climate system had time to process them. This was true during the orbitally-induced glacial-interglacial cycles in the ice ages. In warmer interglacials, more intense insolation in northern hemisphere summers led to warmer oceans which were in equilibrium with slightly more CO2 in the atmosphere by adjusting their carbonate levels. In glacial times with less intense northern hemisphere summer insolation, the cooler oceans dissolved more CO2, and carbonate levels adjusted accordingly. The changes occurred over gentle timescales of tens of thousands to hundreds of thousands of years – plenty slow enough for slow feedbacks like the deep oceans and ice sheets to keep pace.
How oceans processed the slow glacial-interglacial changes in the ice ages. CCD = Carbonate Compensation Depth, CO32- = carbonate. Based on text in Zeebe, Annual Reviews 2012.