A new two-part study published in Climatic Change by a team of scientists led by Stephan Lewandowsky examines mathematically what happens to the risks posed by climate change when the scientific uncertainty increases. Part 1 of the study explores two important points.
First, the probable range of climate sensitivity to the increased greenhouse effect isn't symmetrical. Instead, based on the available evidence and research, it's more likely that we'll see a large amount of global warming than a small amount in response to rising carbon emissions. By itself, this means that more climate uncertainty translates into an even bigger risk of painful consequences than relatively benign consequences. More uncertainty means a slightly better chance of the low warming outcomes, but it also means an even bigger chance of the high warming outcomes, because the scientific data have a harder time ruling those out.
The second critical point is that economic models agree that once we reach a certain tipping point, the costs of climate damage increase at an accelerating rate. The models don't agree on exactly where that tipping point lies, but they do agree on the shape of the curve and the acceleration of the climate damage costs once we pass that tipping point (even the 'skeptics' agree on this).
---
Posted on 4 April 2014 by dana1981
On March 8th, 2014, I participated in a Faith and Climate Forum near Sacramento, California. The event was co-sponsored by the Sacramento chapter of Citizens Climate Lobby (CCL), of which I'm a member. CCL is a non-partisan grassroots organization whose goal is to build the political will to maintain a liveable climate, specifically through a revenue-neutral carbon tax.
Another Sacramento CCL chapter member, Christine Bailey organized this event, bringing together local faith leaders and CCL members to speak about the importance of addressing climate change. The event began with local leaders of various religions including Presbyterian, Buddhist, Islamic, and Jewish faiths speaking about the importance of preserving a liveable climate for each of their religions. I was asked to follow these speakers to talk about the science, and I gave what I called 'a climate science crash course'. Videographer Brian McKinsey recorded the event, and the whole thing can be viewed on his YouTube page. My talk can be viewed below, and the Powerpoint slides can be downloaded here (8.5 MB, without Andy Lee Robinson's Arctic sea ice cubes video) and here (16.5 MB with the video).
---
Posted on 3 April 2014 by John Abraham
Much has been made about the Earth's energy imbalance (extra energy absorbed by the Earth). It is clear the Earth is out of balance, in laypersons' terms, it has a "fever". What isn't clear is how bad the fever is. A new study by Dr. Matt Palmer and Dr. Doug McNeall moves us closer to answering this "fever" question.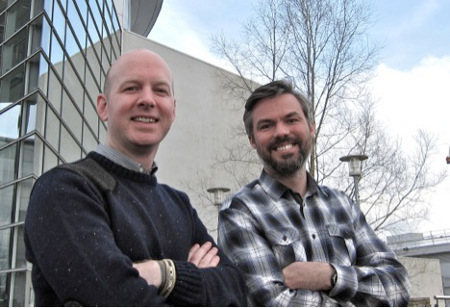 Matt Palmer and Doug McNeall
These scientists used data from the latest group of climate computer models (CMIP5) to look at the relationships between the energy flows at the top of the atmosphere, the surface temperature of the Earth, and changes in ocean energy. They made (in my mind), three important conclusions.