From within this movement, there are huge voices, widely respected by both the scientific and faith communities. Perhaps the best known is Dr. Katharine Hayhoe, a top climate scientist who is also an evangelist Christian. There are other persons and organizations who work similarly to connect these two world viewpoints in a powerful yet common-sense way.
Recently a book has been published by a faith-science duo. That duo is Paul Douglas, respected meteorologist, entrepreneur, Republican, and Christian, and his writing partner Mitch Hescox who leads the Evangelical Environmental Network (the largest evangelical group devoted to creation care). Their book, entitled Caring for Creation, provides a masterful balance of science, faith, and personal journey.
The style of the book is one I have not seen before. It is a side-by-side presentation of first science, then faith, then science, and back to faith. Interspersed within the main text are enlightening anecdotes mainly from weather forecasters across the country which show an informed lived experience of experts watching the climate change before their very eyes. Importantly the authors provide a list of concrete things that we all can do, starting right now to make a meaningful impact in reducing global warming.
Within this book there is real science. Not just about what is happening now, but the history of climate science, how we've known since the 1800s that human emissions of greenhouse gases like carbon dioxide can warm the atmosphere. We also hear from Douglas about observed changes to the weather we all experience. This isn't a problem for far-off times or far-away places. This is an issue that is being manifested now.
Hescox articulates a message grounded in the proposition that the creation is a gift from God and there is a real responsibility to care for it. Not only for others distant in time and space that may suffer, but for our own good. In fact, he argues persuasively that caring for this creation can help strengthen one's faith.
Hescox also argues from a pro-life position. Caring for creation is the ultimate pro-life stance. Squandering resources and gifts will not only cause real harm to people and our economy, but it will endanger the lives of many of the most vulnerable.
Douglas provided a great summary:
I am a scientist but I believe in absolutes – I believe in more than I can observe, measure and test. The book of Genesis tells us that God made us in his self image. He gave us big, beautiful brains and the ability to think, reason, solve problems, make smart decisions, and improve our lives. He also gave us the good sense not to foul our nest.
Both of these intertwined stories of faith and science are woven together in a way that is easily accessible for non-scientists and people who are not of faith. We don't need to be climate scientists or religious experts to get a lot out of the authors' perspective.
There are a few quotes from the book that do a great job of encapsulating the central themes which I will share.
---
Posted on 9 October 2016 by John Hartz
Story of the Week... SkS Highlights... Toon of the Week... Quote of the Week... Graphic of the Week... SkS in the News... SkS Spotlights... Video of the Week... Coming Soon on SkS... Poster of the Week... Climate Feedback Reviews... SkS Week in Review... 97 Hours of Consensus...
Story of the Week...
A renowned economist who helped persuade the world to start taking climate change seriously has warned the global economy could "self-destruct" if countries fail to ditch fossil fuels and embrace a clean, green, high-tech future.
Professor Lord Nicholas Stern was credited with bringing about a sea change in attitudes when he calculated the cost of failing to tackle the problem in 2006. While dealing with global warming would cost one per cent of the world's gross domestic product, doing nothing would be up to 20 times more expensive, he concluded.
Now Professor Stern, former Mexican president, Felipe Calderón, and other leading figures from politics, finance and science have launched a major new report saying Governments and businesses must change course – and quickly.
"The challenge is urgent: the investment choices we make even over the next two to three years will start to lock in for decades to come either a climate-smart, inclusive growth pathway, or a high-carbon, inefficient and unsustainable pathway," said the report by The Global Commission on the Economy and Climate.
Global economy could 'self-destruct' if world carries on burning fossil fuels, leading economist warns by Ian Johnston, The Independent, Oct 6, 2016
SkS Highlights...
Using the metric of comments garnered, the two most popular articles posted on SkS during the past week are:
Toon of the Week...
---
Posted on 8 October 2016 by John Hartz
Sun Oct 2, 2016
---
Posted on 6 October 2016 by dana1981
Climate scientists have 95% confidence that humans are the main cause of global warming over the past six decades. Their best estimate attributes 100% of global warming since 1950 to human activities. 90 to 100% of climate scientists and their research agree on this. Human-caused global warming is as settled as science gets.
Yet most Americans don't realize it. Moreover, the more conservative a person's ideology, the less likely they are to accept this scientific reality or to trust the scientific experts.
According to a new Pew Research Center poll, just 48% of Americans realize that the Earth is warming mostly due to human activity. Highlighting a vast partisan reality gap, 79% of liberal Democrats and just 15% of conservative Republicans answer the question correctly.
Science knowledge matters for Democrats, but not Republicans
Among social scientists, there's an ongoing debate about whether facts can change peoples' minds on scientific issues that have become politically polarized, like climate change. There's some evidence that when conservatives have more scientific knowledge, it just gives them more tools to use in rejecting the scientific information that conflicts with their ideological beliefs.
Pew asked a variety of general science questions to test the correlation between scientific knowledge and acceptance of human-caused global warming. Overall, Democrats and Republicans got the same average score on these scientific questions, although liberal Democrats and conservative Republicans scored better than moderates in both parties. When it came to understanding that humans are causing global warming, Pew found that scientific knowledge makes a huge difference among Democrats, and no difference among Republicans.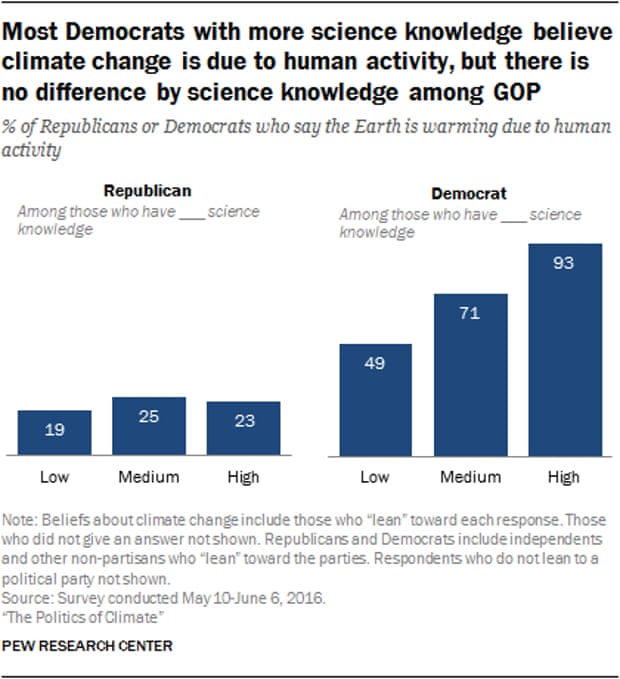 However, previous research has shown that conservatives with climate-specific knowledge are more likely to accept climate realities.
For Democrats, ideology isn't a factor because the main solutions to the problem (e.g. regulations and pollution taxes) don't conflict with their ideological beliefs. Thus scientific knowledge determines whether they understand that humans are causing global warming. For three-quarters of American conservatives, their ideology prevents them from accepting that reality, regardless of their scientific literacy.
---
Posted on 5 October 2016 by Guest Author
Anders Runevad is CEO and Group President of Vestas Wind Systems A/S, the global leader in wind energy.
As we close out a summer marked by uncertainty in news and events, one trend for which analysts voice increasing certainty is the accelerating pace of the clean-energy transformation reshaping how the world generates electricity.
With increasing speed, global energy markets are turning away from fossil fuels and towards wind and other renewable sources, not just because they're clean but because they're cheaper, more competitive energy choices and offer a level of long-term certainty more price-volatile fossil fuels just can't match.
In fact, by 2030 clean energy is expected to overtake fossil fuels and become the largest source in global electricity production — and wind power is forecast to lead the way to meet the surging demand for renewables. In its 2016 Outlook, Bloomberg New Energy Finance (BNEF) projects:
a fundamental transformation of the world electricity system over coming decades towards renewable sources.
From forecast data to market demand, it's clear the future belongs to wind and other clean energies.
In the top energy markets on six continents, wind is now the cheapest or largest source of newly installed power and gaining share. In 2015, the wind industry crossed the 60 gigawatt (GW) mark for the first time and reached an unprecedented 63 GW installed globally.
The bottom line: wind is winning. Not just in forecasts, but in today's global marketplace.
---
Posted on 4 October 2016 by Guest Author
This discussion happened last night at the White House.
---
Posted on 4 October 2016 by dana1981
A new report from the US Department of Energy paints a bright picture for our prospects to cut carbon pollution and prevent the most dangerous levels of climate change. The report looked at recent changes in costs and deployment of five key clean energy technologies: wind, residential solar, utility-scale solar, batteries, and LED bulbs. For each technology, costs fell between 41% and 94% from 2008 to 2015.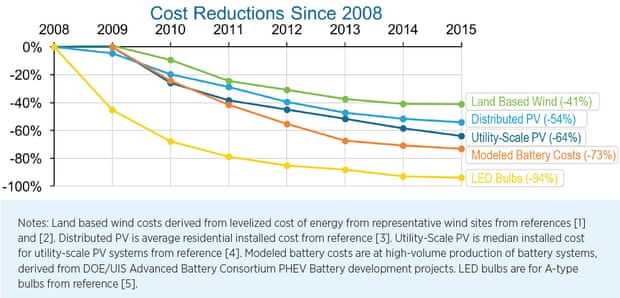 Good news for doom and gloom environmentalists
Many who understand the realities and dangers of human-caused global warming are afraid that we'll fail to avoid catastrophic climate change. Among this group, even positive climate stories are often viewed through a lens of pessimism, and we often see stories about the likelihood that we'll miss climate targets.
However, it's important to acknowledge the progress that's being made, and retain a sense of hope and optimism that we can still avoid the worst climate consequences. This new DOE report highlights the fact that clean energy technology is quickly moving in the right direction, toward lower costs and higher deployment.
---
Posted on 2 October 2016 by John Hartz
Story of the Week... SkS Highlights... Toon of the Week... Quotes of the Week... Graphic of the Week... SkS in the News... SkS Spotlights... Video of the Week... Coming Soon on SkS... Poster of the Week... Climate Feedback Reviews... SkS Week in Review... 97 Hours of Consensus...
Story of the Week...
To much fanfare, global leaders have agreed to tackle the climate crisis by ratifying the Paris climate agreement, but a group of esteemed scientists is warning that current pledges to reduce emissions are far from sufficient and, in fact, put the world on track to reaching the dangerous 2°C climate threshold by 2050.
"The pledges are not going to get even close," said Sir Robert Watson, former chair of the Intergovernmental Panel on Climate Change (IPCC), and lead author of a new report out Thursday. "If you governments of the world are really serious, you're going to have to do way, way more."
Aptly titled The Truth About Climate Change, the report, put forth by the Argentina-based Universal Ecological Fund (Fundación Ecológica Universal FEU-US), comes amid a rash of new research, all suggesting that key global warming thresholds will be reached much more rapidly than previously thought.
Forget Paris, Scientists Say 'Radical Change' Only Way to Stay Below 2 Degrees by Lauren MaCauley, Common Dreams, Sep 30, 2016
SkS Highlights...
Using the metric of comments garnered, the two most popular articles posted on SkS during the past week are:
Toon of the Week...