Latest Posts
dana1981
Publications
Nuccitelli, D., Way, R., Painting, R., Church, J., & Cook, J. (2012). Comment on ocean heat content and Earth's radiation imbalance. II. Relation to climate shifts. Physics Letters A.
Cook, J., Nuccitelli, D., Green, S.A., Richardson, M., Winkler, B., Painting, R., Way, R., Jacobs, P., & Skuce, A. (2013). Quantifying the consensus on anthropogenic global warming in the scientific literature. Environmental Research Letters, 8(2), 024024+.
Cook, J., Oreskes, N., Doran, P. T., Anderegg, W. R., Verheggen, B., Maibach, E. W., Carlton, J. S., Lewandowsky, S., Skuce, A. G., Green, S. A., & Nuccitelli, D. (2016). Consensus on consensus: a synthesis of consensus estimates on human-caused global warming. Environmental Research Letters, 11(4), 048002.
Cook, J., Nuccitelli, D., Skuce, A., Way, R., Jacobs, P., Painting, R., Honeycutt, R., Green, S.A. (2014). Reply to Comment on 'Quantifying the consensus on anthropogenic global warming in the scientific literature: a Reanalysis'. Energy Policy. DOI: 10.1016/j.enpol.2014.06.002
Nuccitelli, D. A., Abraham, J. P., Benestad, R. E., & Mandia, S. A. (2013). Comment on: Akasofu, S.-I. On the Present Halting of Global Warming. Climate 2013, 1, 4–11. Climate, 1(2), 76-83.
Abraham, J., Cook, J., Fasullo, J., Jacobs, P., Mandia, S., & Nuccitelli, D. (2014). Review of the consensus and asymmetric quality of research on human-induced climate change.
Cosmopolis
,
2014
(1), 3-18.
Benestad, R. E., Hygen, H. O., Dorland, R. V., Cook, J., & Nuccitelli, D. (2013). Agnotology: learning from mistakes. Earth System Dynamics Discussions, 4(1), 451-505.
Nuccitelli, D., Richter, M. J., & McCall, B. J. (2005). A search for interstellar carbon-60. In IAU Symposium (Vol. 235, p. 236P).
Encrenaz, T., Bézard, B., Greathouse, T., Holmes, S., Richter, M., Nuccitelli, D., & Forget, F. et al. (2006, February). Ground-based high-resolution IR spectroscopy of Mars: H2O and H2O2 mapping, search for CH4, and determination of CO2 isotopic ratios. In Second Workshop on Mars Atmosphere Modelling and Observations, held February.
Recent blog posts
---
Posted on 4 May 2016 by dana1981 &
The latest survey data from Yale and George Mason universities underscores thepartisan divide on climate science denial – 73% of Americans realize that global warming is happening, including 71% of liberal/moderate Republicans, but the average is dragged down by the mere 47% of conservative Republicans who answer this question correctly. On the bright side, this is a big improvement from the 28% of conservative Republicans who realized global warming was happening just two years ago.
Similarly, 56% of Americans realize global warming is mostly caused by humans, including 49% of liberal/moderate Republicans, but the number is again dragged down by the 26% of conservative Republicans correctly answering this question.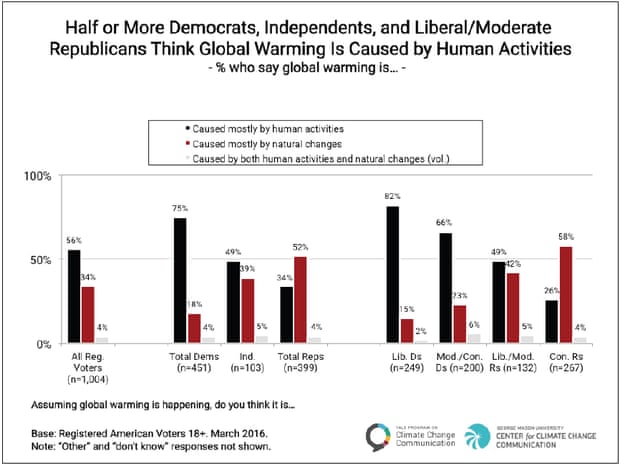 The numbers and demographics expressing concern about global warming are almost identical to those accepting human-caused global warming. That particular correlation lends support to a recent paper published in Nature Climate Change, led by Jing Shi.
Can facts convince people about global warming?
Social scientist Dan Kahan has argued that ideological and cultural identity can be so strong that scientific evidence, facts, and information can't break through it. Kahan thinks that on certain issues like climate change, ideological biases make many conservatives immune to facts.
In fact, conservatives with higher education and general scientific knowledge are often more wrong about climate change, in what's been coined the "smart idiot" effect. This has led Kahan to conclude that on climate change, facts and knowledge can't sway people. However, other research has found that climate-specific knowledge does correlate with acceptance of climate science.
In the new study led by Jing Shi, the authors surveyed a total of 2,495 people in Canada, China, Germany, Switzerland, the UK, and the US. They asked questions to evaluate the participants' specific knowledge about the physical characteristics of climate change and understanding of its causes and consequences.
Critically, they found that knowledge about the causes of climate change was correlated with higher concern about climate change in all countries, and knowledge about the consequences was linked to higher concern in most countries.
respondents from Germany and Switzerland had significantly higher scores on knowledge about physical aspects of climate change than participants from Canada and the US. Chinese respondents knew significantly more about the causes of climate change than the respondents from the other countries. German and Swiss respondents were most knowledgeable about the consequences of climate change. In contrast, participants from the US had the lowest level of knowledge about climate change among the six countries we surveyed, independent of the type of knowledge.
In short, as illustrated in the Yale/George Mason poll numbers, people who realize that humans are causing global warming are more likely to be concerned about the problem.
In Shi's survey, the Chinese respondents had the most knowledge about the causes of global warming, with the German and Swiss participants most accurately answering the questions about its consequences. These nationalities also expressed the greatest concern about climate change. Americans showed the least climate knowledge and the least concern.
---
Posted on 28 April 2016 by dana1981 &
There's a widespread misconception about science denial – that on issues like the safety vaccines and genetically modified foods (GMOs), denial is found predominantly on the political left, mirroring the denial of evolution and climate science on the political right. This assumption has even been presented on The Daily Show, but it's supported by precious little evidence. In fact, as Chris Mooney documented in great detail in 2014:
[The data] do not support the idea that vaccine denial is a special left-wing cause. As for GMOs, while resistance may be strongest on the far left, worries on this issue are quite prominent across the spectrum as well.

In neither case are these beliefs a mirror image, on the left, of climate change or evolution denial [on the political right].
New polling further debunks the science denial symmetry myth
A new YouGov poll provided yet more data, asking, "Do you think it is generally safe or unsafe to eat genetically modified foods?". There was little difference in answers across political affiliations – Democrats and Republicans were evenly split on the question of safe/unsafe, and Independents were more likely to consider GMOs unsafe. Gender and family income best predicted the answers, with men and higher-income individuals more likely to consider GMOs safe.
---
Posted on 21 April 2016 by dana1981 &
Click here to read the original at the Bulletin of Atomic Scientists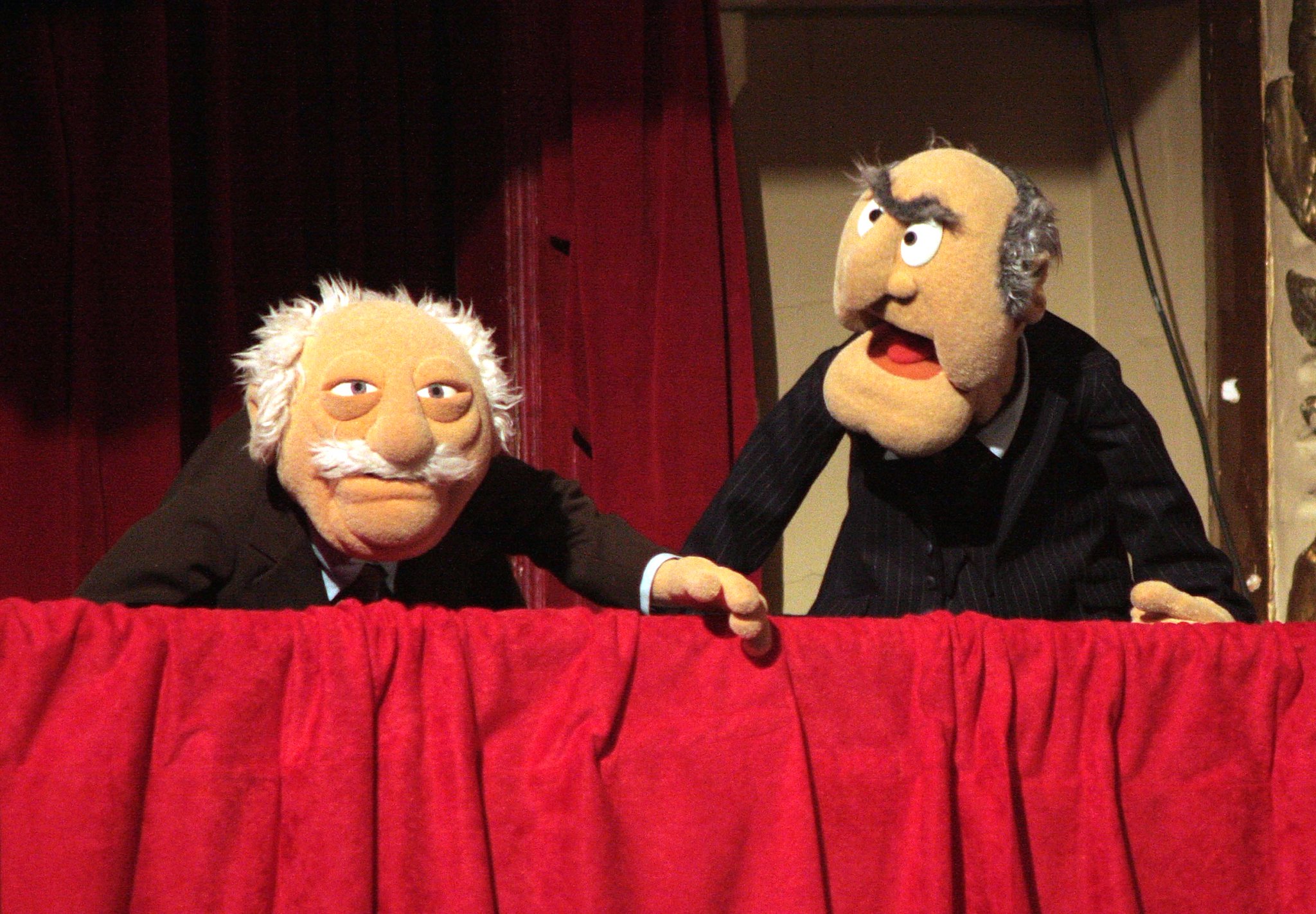 A record number of Americans now view global warming as a serious threat and blame human activities as the cause. But there is apparently a generation gap out there when it comes to accepting the scientific evidence. And an ethnic gap, a gender gap, and a gap in political leaning—along with whether one can be considered one of society's "haves" or "have nots." So, who are these climate deniers? What is their profile?
---
Posted on 19 April 2016 by dana1981 &
A new study published in Climate Dynamics has found that humans are responsible for virtually all of the observed global warming since the mid-20th century. It's not a novel result – in fact, most global warming attribution studies have arrived at the same general result – but this study uses a new approach.
Studies attempting to figure out the global warming contributions of various human and natural sources usually use a statistical approach known as 'linear regression'. This approach assumes we know the pattern of warming that each source (forcing) will cause, but we don't know how big the resulting warming will be. For example, we know that greenhouse gases cause more warming over land than water, the most in the Arctic, and more warming in response to rising atmospheric carbon dioxide levels.
As an example of this approach, this animated graphic shows what happens when a 2011 study by Foster & Rahmstorf removed the known natural influences from the observed global surface temperature record, leaving behind the human-caused global warming signal.
---
Posted on 13 April 2016 by dana1981 &
There is an overwhelming expert scientific consensus on human-caused global warming.
Authors of seven previous climate consensus studies — including Naomi Oreskes,Peter Doran, William Anderegg, Bart Verheggen, Ed Maibach, J. Stuart Carlton,John Cook, myself, and six of our colleagues — have co-authored a new paper that should settle this question once and for all. The two key conclusions from the paper are:
1) Depending on exactly how you measure the expert consensus, it's somewhere between 90% and 100% that agree humans are responsible for climate change, with most of our studies finding 97% consensus among publishing climate scientists.

2) The greater the climate expertise among those surveyed, the higher the consensus on human-caused global warming.
Expert consensus is a powerful thing. People know we don't have the time or capacity to learn about everything, and so we frequently defer to the conclusions of experts. It's why we visit doctors when we're ill. The same is true of climate change: most people defer to the expert consensus of climate scientists. Crucially, as we note in our paper:
Public perception of the scientific consensus has been found to be a gateway belief, affecting other climate beliefs and attitudes including policy support.
That's why those who oppose taking action to curb climate change have engaged in a misinformation campaign to deny the existence of the expert consensus. They've been largely successful, as the public badly underestimate the expert consensus, in what we call the "consensus gap." Only 12% of Americans realize that the consensus is above 90%.

---
Posted on 4 April 2016 by dana1981 &
It's long puzzled climate realists: why do free market supporters oppose free market solutions to climate change? The answer may be related to another puzzling question: why does Donald Trump have such unwavering support among a certain segment of American conservatives?
A recent paper by Jeremiah Bohr published in the journal Environmental Politics sought to answer the climate question. As Bohr notes:
Mainstream policy responses seek to utilize market mechanisms in an effort to minimize costs for major emitters of greenhouse gases. Presumably, this should win over some climate change deniers who align themselves with think tanks promoting free markets and economic growth. Yet, climate change deniers and free-market activists are as staunchly opposed to market-based climate policy as they are to any other form of climate mitigation.
Bohr looked through issues of the Heartland Institute's Environment and Climate News newsletter. He found that about 75% of Heartland's articles denied climate science, usually by exaggerating uncertainties, or by presenting the evidence as junk science. About 6% argued that climate change will be beneficial, and 39% argued that climate policies will do more harm than good, usually claiming that they'll hurt the economy.
Among the latter group, 51% characterized markets as inherently efficient, self-regulating, and generative of wealth. Heartland views any tampering with the market as bad for the economy. As Bohr describes it:
---
Posted on 21 March 2016 by dana1981 &
"Stunning," "wow," "shocker," "bombshell," "astronomical," "insane,""unprecedented"– these are some of the words climate scientists have used to describe the record-shattering global surface temperatures in February 2016.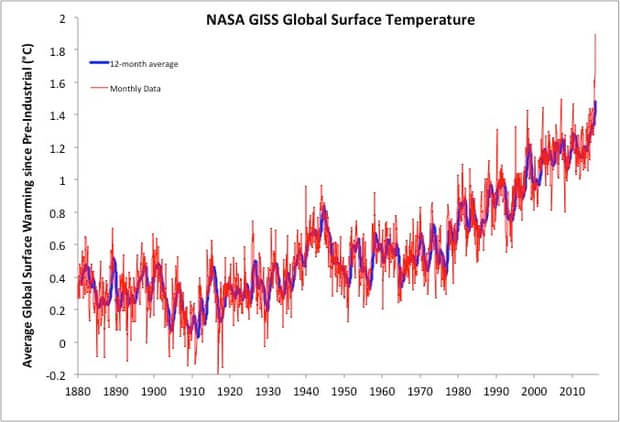 It's difficult to see any 'pause' or slowdown in the global warming over the past 50 years.
To put the current temperatures into context, prior to last October, monthly global surface temperatures had not been more than 0.96°C hotter than the 1951–1980 average, according to Nasa. The past 5 months have been 1.06°C, 1.03°C, 1.10°C, 1.14°C, and 1.35°C hotter than that average, absolutely destroying previous records. Estimates from Noaa are in broad agreement with those from Nasa.
Right now, the Earth's average surface temperature is hotter than it's been in thousands of years; potentially even longer.
---
Posted on 15 March 2016 by dana1981 &
This is an update to the rebuttal to the myth 'it hasn't warmed since 1998'
Even if we ignore long term trends and just look at the record-breakers, 2015, 2014, 2010, and 2005 were hotter than 1998.
The myth of no warming since 1998 was based on the satellite record estimates of the temperature of the atmosphere. However, as discussed in the video below by Peter Sinclair, even that argument is no longer accurate. The satellites show warming since 1998 too.
To claim global warming stopped in 1998 also overlooks a simple physical reality - the land and atmosphere are just a small fraction of the Earth's climate (albeit the part we inhabit). The entire planet is accumulating heat due to an energy imbalance. Theatmosphere is warming. Oceans are accumulating energy. Land absorbs energy and ice absorbs heat to melt. To get the full picture on global warming, you need to view the Earth's entire heat content. More than 90% of global warming heat goes into warming the oceans, while less than 3% goes into increasing the atmospheric and surface air temperatures. Nuccitelli et al. (2012) showed that the Earth has continued to heat up since 1998.
---
Posted on 14 March 2016 by dana1981 &
Last week, the Democratic and Republican presidential candidates participated in debates in Florida. A bipartisan group of 21 Florida mayors wrote to the debate moderators to argue it would be "unconscionable for these issues of grave concern for the people of Florida [climate change and sea level rise] to not be addressed." The moderators of both debates listened, and asked the candidates questions about climate change – including by far the most substantive climate question posed to the Republican candidates thus far.
Sanders and Clinton spar over climate and fracking policies
The climate discussion in the Democratic debate can be viewed in the video below.
In her response (transcript available here), Hillary Clinton said that she would proceed with implementing President Obama's Clean Power Plan, and his executive actions on climate change. She supported the use of natural gas as a "bridge fuel," arguing:
---
Posted on 7 March 2016 by dana1981 &
Media Matters for America has published a report detailing US broadcast news coverage of climate change in 2015, and their findings are stunning.
2015 was a banner year for climate news. February, June, October, November, and December were each their respective hottest months on record, and 2015 shattered the record for hottest year. The pope delivered a climate encyclical.Investigative journalists at Inside Climate News discovered that Exxon knewabout the dangers of human-caused global warming while it funded a climate misinformation campaign, and the New York attorney general launched an investigation into the company's behavior. President Obama's Clean Power Plan went into effect, and he rejected the Keystone XL pipeline. And most importantly, 195 countries agreed to cut carbon pollution as much as possible to stem global warming.
Despite all these critically important stories, as in the presidential debates, climate change was largely absent from US broadcast news. Climate coverage fell in 2015.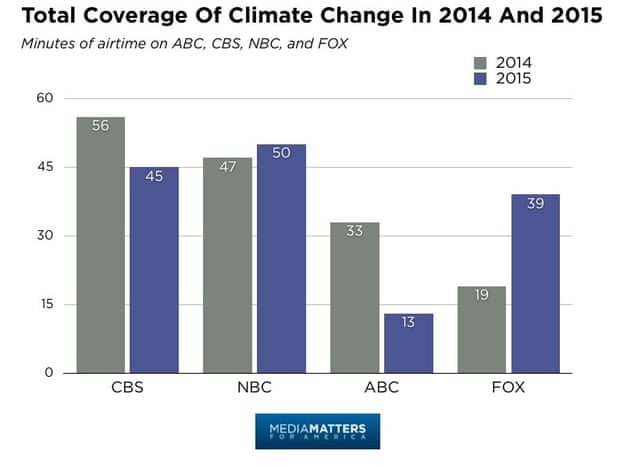 Most of the decline was due to ABC, which only spent 13 minutes in 2015 covering climate change – three times less than even Fox. While Fox's coverage increased, most of the network's climate segments featured interviews with guests who criticized efforts to address global warming.
The Sunday shows (ABC's This Week, CBS' Face the Nation, NBC's Meet the Press, and Fox Broadcasting Co.'s Fox News Sunday) and the network nightly news programs (ABC's World News Tonight, CBS Evening News, and NBC Nightly News)each aired a combined 73 minutes of climate coverage in 2015, down a total of 8 minutes (a 5% decline) from 2014. The Public Broadcasting System (PBS)NewsHour program aired more segments addressing climate change (58) than the other nightly news shows combined (48).
COP21 LiveBlog

The Consensus Project Website
TEXTBOOK

THE ESCALATOR


(free to republish)
THE DEBUNKING HANDBOOK

The Scientific Guide to
Global Warming Skepticism

Smartphone Apps
iPhone

Android

Nokia