Latest Posts
dana1981
Publications
Nuccitelli, D., Way, R., Painting, R., Church, J., & Cook, J. (2012). Comment on ocean heat content and Earth's radiation imbalance. II. Relation to climate shifts. Physics Letters A.
Cook, J., Nuccitelli, D., Green, S.A., Richardson, M., Winkler, B., Painting, R., Way, R., Jacobs, P., & Skuce, A. (2013). Quantifying the consensus on anthropogenic global warming in the scientific literature. Environmental Research Letters, 8(2), 024024+.
Cook, J., Nuccitelli, D., Skuce, A., Way, R., Jacobs, P., Painting, R., Honeycutt, R., Green, S.A. (2014). Reply to Comment on 'Quantifying the consensus on anthropogenic global warming in the scientific literature: a Reanalysis'. Energy Policy. DOI: 10.1016/j.enpol.2014.06.002
Nuccitelli, D. A., Abraham, J. P., Benestad, R. E., & Mandia, S. A. (2013).
Comment on: Akasofu, S.-I. On the Present Halting of Global Warming
. Climate 2013, 1, 4–11.
Climate
,
1
(2), 76-83.
Abraham, J., Cook, J., Fasullo, J., Jacobs, P., Mandia, S., & Nuccitelli, D. (2014). Review of the consensus and asymmetric quality of research on human-induced climate change.
Cosmopolis
,
2014
(1), 3-18.
Benestad, R. E., Hygen, H. O., Dorland, R. V., Cook, J., & Nuccitelli, D. (2013). Agnotology: learning from mistakes. Earth System Dynamics Discussions, 4(1), 451-505.
Nuccitelli, D., Richter, M. J., & McCall, B. J. (2005). A search for interstellar carbon-60. In IAU Symposium (Vol. 235, p. 236P).
Encrenaz, T., Bézard, B., Greathouse, T., Holmes, S., Richter, M., Nuccitelli, D., & Forget, F. et al. (2006, February). Ground-based high-resolution IR spectroscopy of Mars: H2O and H2O2 mapping, search for CH4, and determination of CO2 isotopic ratios. In Second Workshop on Mars Atmosphere Modelling and Observations, held February.
Recent blog posts
---
Posted on 27 May 2015 by dana1981 &
In a campaign event last week, Republican presidential frontrunner Jeb Bush exhibited Stage 2 climate denial, saying (video available here),
Look, first of all, the climate is changing. I don't think the science is clear what percentage is man-made and what percentage is natural. It's convoluted. And for the people to say the science is decided on, this is just really arrogant, to be honest with you. It's this intellectual arrogance that now you can't even have a conversation about it.
The Politics
Unfortunately, denial of human-caused global warming may be a prerequisite for any viable Republican presidential candidate. Conservative and Tea Party Republicans are the one group of American voters among whom Stage 2 climate denial is the majority position, but they're also the group that most reliably votes in GOP primary elections.
In American politics, a candidate first has to win a primary election before reaching the national ballot. For Republicans, that means appealing to conservatives. It's not clear that a Republican presidential candidate can accept climate science and run a viable primary campaign.

The Science
Nevertheless, the scientific evidence supporting human-caused global warming is just as strong as the evidence linking smoking and lung cancer. Last year, the IPCC stated with 95% confidence that humans are the main cause of the global warming that's occurred since 1950. Their best estimate is that we're responsible for about 100% of the warming during the past six decades.
Gavin Schmidt, Director of the NASA Goddard Institute for Space Studies, put together this graph showing what's known as the probability density function of the human contribution to global warming since 1950, based on the IPCC report.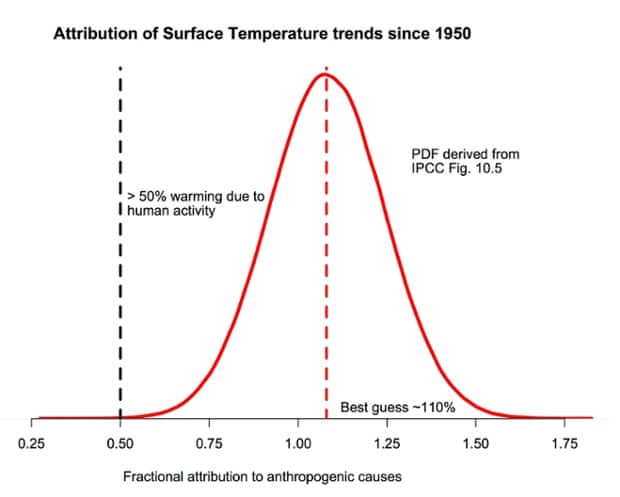 ---
Posted on 21 May 2015 by dana1981 &
US Congress periodically holds hearings on issues related to climate change. Because the subject has become a partisan one in America, they generally follow a predictable pattern – Democrats invite science and policy expert witnesses who agree with the expert consensus on human-caused global warming and the need to address it, and Republicans invite witnesses who disagree.
John Christy at the University of Alabama at Huntsville is one of the fewer than 3% of climate scientists who publishes research suggesting that humans aren't the primary cause of the current global warming. He's thus become one of Republicans' favorite expert witnesses.
Last week, the Committee on Natural Resources held a hearing to discuss draft guidance by the the President's Council on Environmental Quality to include carbon pollution and the effects of climate change in the consideration of environmental impacts of federal projects, as part of the National Environmental Policy Act (NEPA) review process. Needless to say, the Republicans on the committee don't like the idea, as is clear from the hearing highlights and lowlights in the video below.
Christy Manufactures Doubt on Model Accuracy
Given that the hearing was ostensibly about environmental policy, most of the witnesses were policy experts. John Christy was the lone climate scientist invited to testify. His testimony focused on manufacturing doubt about the accuracy of climate models, climate change impacts, and about individual American projects' contributions to global warming. On the accuracy of climate models, Christy played rather fast and loose with the facts, saying in his written testimony (emphasis added),
---
Posted on 13 May 2015 by dana1981 &
It's the hottest trend in climate denial. Long gone are the days when people can publicly deny that the planet is warming or that humans are responsible without facing widespread mockery. Those who oppose taking serious action to curb global warming have mostly shifted to Stage 3 in the 5 stages of climate denial.
Stage 1: Deny the problem exists
Stage 2: Deny we're the cause
Stage 3: Deny it's a problem
Stage 4: Deny we can solve it
Stage 5: It's too late
Each of the 5 stages shares one main characteristic – all can be used to argue against efforts and policies to slow global warming. If the planet isn't warming, or if we're not causing it, or if it's not a problem, or if we can't solve it, or if it's too late, in each case there's no reason to implement climate policies.
People who favor the status quo will often bounce back and forth between the various stages of climate denial. However, as Stages 1 and 2 have become increasingly untenable, Stage 3 has become more popular.
As a result, so-called "Lukewarmers" have emerged. This group believes that the climate is relatively insensitive to the increasing greenhouse effect, and hence that climate change will proceed slowly enough as to not be a serious concern in the near future. This group has also become known as "Luckwarmers," because they essentially want to gamble our future on the small chance that the best possible case scenario will come to fruition.
---
Posted on 6 May 2015 by dana1981 &
Since the turn of the century, the Earth's climate has continued to accumulate heat at a rate equivalent to more than 4 atomic bomb detonations per second. During that time, the warming rate of the Earth's surface temperatures (which represent about 1–2% of the overall warming of the Earth's climate) has slowed somewhat.
That surface warming slowdown has been inaccurately named 'the pause,' and has been the basis of arguments that we needn't worry about climate change. In reality, there's no statistical evidence that we've deviated from the long-term surface warming trend observed over the past 40–50 years. Stefan Rahmstorf, who has researched recent global surface temperature changes, told me,
There is no change in the global warming trend. We're just looking at random variability around a steady warming trend. And this random variability has been there all along, it's not a recent change.
There's also no evidence that our expectations of future global warming are inaccurate. For example, a paper published in Nature Climate Change last week by a team from the University of New South Wales led by Matthew England showed that climate models that accurately captured the surface warming slowdown (dark red & blue in the figure below) project essentially the same amount of warming by the end of the century as those that didn't (lighter red & blue).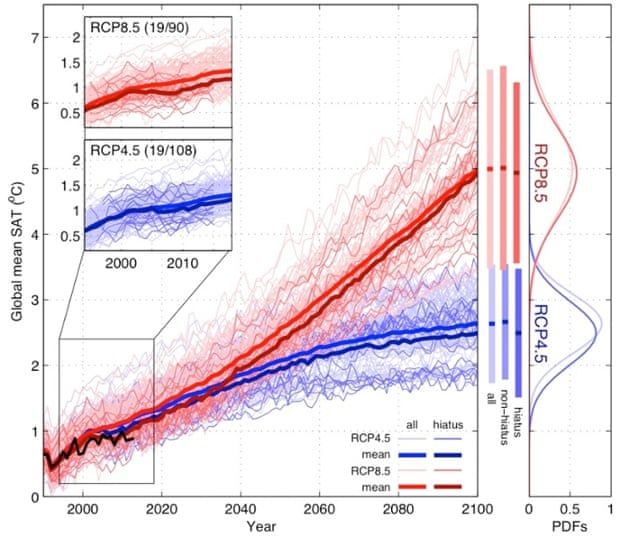 ---
Posted on 30 April 2015 by dana1981 &
It's known as "single study syndrome". When a new scientific paper is published suggesting that the climate is relatively insensitive to the increased greenhouse effect, potentially modestly downgrading the associated climate change threats, that sort of paper will generally receive disproportionate media attention. Because of that media attention, people will tend to remember the results of that single paper, and neglect the many recent studies that have arrived at very different conclusions.
Clouds Point to a Sensitive Climate
For example, there have been several recent studies finding that the global climate models that most accurately simulate observed changes in clouds and humidity over the past 10–15 years also happen to be the ones that are the mostsensitive to the increased greenhouse effect. For example, a 2012 paper by Kevin Trenberth and John Fasullo concluded,
These results suggest a systematic deficiency in the drying effect of either subsident circulations or spurious mixing of moister air into the region in low-sensitivity models that directly relate to their projected changes in cloud amount and albedo … the results strongly suggest that the more sensitive models perform better, and indeed the less sensitive models are not adequate in replicating vital aspects of today's climate.
A 2014 paper led by Steven Sherwood took a similar approach with similar results. The paper concluded,
The mixing inferred from observations appears to be sufficiently strong to imply a climate sensitivity of more than 3 degrees for a doubling of carbon dioxide. This is significantly higher than the currently accepted lower bound of 1.5 degrees, thereby constraining model projections towards relatively severe future warming.
---
Posted on 21 April 2015 by dana1981 &
Starting April 28th, 2015, the University of Queensland is offering a free Massive Open Online Course (MOOC) aimed at "Making Sense of Climate Science Denial."
The course coordinator is John Cook, University of Queensland Global Change Institute Climate Communication Fellow, and founder of the climate science myth debunking website Skeptical Science. Cook's research has primarily focused on the psychology of climate science denial. As he explains,
---
Posted on 15 April 2015 by dana1981 &
65 researchers from provinces across Canada have published a report, Acting on Climate Change, that details how the country can successfully decarbonize its electric grid to slow global warming.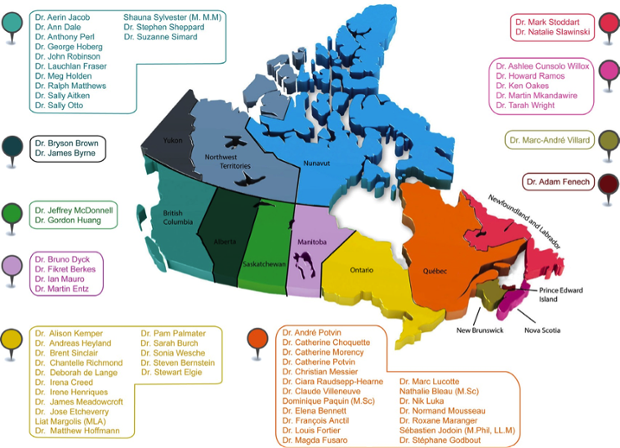 The team unanimously endorsed putting a price on carbon pollution as a key strategy. Without a carbon fee, the price of electricity on the market doesn't reflect its true costs to society. This is a market failure that economists call an "externality," where the costs associated with a product (in this case, damages incurred via climate change) aren't captured in its market price. Instead they're paid by taxpayers in what could be considered a massive subsidy to the fossil fuel industry.
Most economists support putting a price on carbon pollution in order to correct this market failure. Acting on Climate Change notes that this could be accomplished with either a carbon tax or cap and trade system. So far, the province of British Columbia has implemented a highly popular and successful revenue-neutral carbon tax, while the province of Québec has adopted a cap and trade system in coordination with California as part of the Western Climate Initiative, and Ontario has just announced that it will also implement a carbon cap and trade system.
In addition to carbon pricing, some other key policies suggested in the report include,
---
Posted on 8 April 2015 by dana1981 &
The so-called 'pause' in the rate of global warming is false and distracting. It is a politically engineered excuse to avoid taking action on climate change.
Over the past 17 years, the Earth has warmed rapidly, accumulating energy at a rate equivalent to more than four atomic bomb detonations per second. That's over 2 billion atomic bombs worth of heat built up on our planet since 1998.
As discussed in a new book by one of us (Dana Nuccitelli) Climatology versus Pseudoscience, research has shown that much of the heat buildup during that time was deposited in the deep layers of the Earth's oceans, temporarily keeping it from the surface.
A new article co-authored by the other of us (Michael Mann), shows that natural ocean oscillations have recently acted to temporarily slow the warming of the Earth's surface temperatures, in combination with a relatively quiet sun, and active volcanoes.
Despite this temporary masking of some of the surface warming, 2005, 2010, and 2014 each set records for global surface temperature, and 2015 is thus far on pace to break the record once again. Such is the profound nature of human-caused global warming, that it has overcome these many short-term natural cooling influences.
Yet a purported global warming 'pause' (more aptly named the 'faux pause') is often used as an excuse by those who oppose taking action to curb climate change. For example, Republican Senator and US presidential candidate Ted Cruz recently said on American TV:
"Many of the alarmists on global warming, they've got a problem because the science doesn't back them up. In particular, satellite data demonstrate for the last 17 years, there's been zero warming."
This assertion is problematic for several reasons.
---
Posted on 6 April 2015 by dana1981 &
In 1990, University of Alabama at Huntsville scientists Roy Spencer and John Christy created a data set that estimates the temperature of the Earth's atmosphere by using instruments on satellites (microwave sounding units) that measure microwave radiation in the atmosphere. According to their latestestimates, the Earth's lower atmosphere has warmed significantly since satellite measurements began in 1979, but not quite as fast as thermometer measurements of temperatures at the Earth's surface.
Spencer and Christy have also long disputed the degree to which humans are contributing to that warming, and have thus often been called to testify before Congress by policymakers seeking justification to oppose climate legislation. On the 25th anniversary of their satellite data set, Alabama.com interviewed the pairto discuss their science and climate contrarianism. The resulting discussion was quite revealing.
---
Posted on 30 March 2015 by dana1981 &
There's a rapidly growing body of scientific research finding that California is in the midst of its worst drought in over a millennium, global warming has made the drought worse, and decades-long mega-droughts could become the norm in the state later this century. A new study published in the Proceedings of the National Academy of Science (PNAS) by scientists at Stanford University adds to this bleak picture for the Golden State.
There has been some confusion about the human contribution to California's drought, now entering its fourth consecutive year, because some reports have said that humans have not influenced the amount of precipitation falling in the state thus far. This is a subject of debate – some studies have found evidence of a human 'fingerprint' in the high pressure ridge that's diverted storms away from California over the past three years. But overall, while precipitation has been low, there have been a few years in the historical record where it was lower.
However, evidence indicates that California is in the midst of its worst drought in over 1,200 years. The new PNAS paper helps reconcile these two facts. As an accompanying commentary by Michael Mann and Peter Gleick notes,
Part of the challenge is that the term "drought" can be defined in different ways: for example, meteorological, hydrological, agricultural, and socioeconomic drought. Drought, most simply defined, is the mismatch between the amounts of water nature provides and the amounts of water that humans and the environment demand.
California's worst droughts have historically happened in years that are both dry and hot. While humans may or may not be influencing the amount of rain falling in the state, we are indisputably making it hotter. If we could flip coins representing precipitation and temperature each year, the first could come up wet or dry, but humans are weighting the second such that it will increasingly come up hot. This will make conditions like those that caused California's current record-breaking drought return more often as the planet keeps warming.

The Consensus Project Website
TEXTBOOK

THE ESCALATOR


(free to republish)
THE DEBUNKING HANDBOOK

The Scientific Guide to
Global Warming Skepticism

Smartphone Apps
iPhone

Android

Nokia