Latest Posts
dana1981
Publications
Nuccitelli, D., Way, R., Painting, R., Church, J., & Cook, J. (2012). Comment on ocean heat content and Earth's radiation imbalance. II. Relation to climate shifts. Physics Letters A.
Cook, J., Nuccitelli, D., Green, S.A., Richardson, M., Winkler, B., Painting, R., Way, R., Jacobs, P., & Skuce, A. (2013). Quantifying the consensus on anthropogenic global warming in the scientific literature. Environmental Research Letters, 8(2), 024024+.
Cook, J., Nuccitelli, D., Skuce, A., Way, R., Jacobs, P., Painting, R., Honeycutt, R., Green, S.A. (2014). Reply to Comment on 'Quantifying the consensus on anthropogenic global warming in the scientific literature: a Reanalysis'. Energy Policy. DOI: 10.1016/j.enpol.2014.06.002
Nuccitelli, D. A., Abraham, J. P., Benestad, R. E., & Mandia, S. A. (2013).
Comment on: Akasofu, S.-I. On the Present Halting of Global Warming
. Climate 2013, 1, 4–11.
Climate
,
1
(2), 76-83.
Abraham, J., Cook, J., Fasullo, J., Jacobs, P., Mandia, S., & Nuccitelli, D. (2014). Review of the consensus and asymmetric quality of research on human-induced climate change.
Cosmopolis
,
2014
(1), 3-18.
Benestad, R. E., Hygen, H. O., Dorland, R. V., Cook, J., & Nuccitelli, D. (2013). Agnotology: learning from mistakes. Earth System Dynamics Discussions, 4(1), 451-505.
Nuccitelli, D., Richter, M. J., & McCall, B. J. (2005). A search for interstellar carbon-60. In IAU Symposium (Vol. 235, p. 236P).
Encrenaz, T., Bézard, B., Greathouse, T., Holmes, S., Richter, M., Nuccitelli, D., & Forget, F. et al. (2006, February). Ground-based high-resolution IR spectroscopy of Mars: H2O and H2O2 mapping, search for CH4, and determination of CO2 isotopic ratios. In Second Workshop on Mars Atmosphere Modelling and Observations, held February.
Recent blog posts
---
Posted on 25 August 2015 by dana1981 &
Those who reject the 97% expert consensus on human-caused global warming often invoke Galileo as an example of when the scientific minority overturned the majority view. In reality, climate contrarians have almost nothing in common with Galileo, whose conclusions were based on empirical scientific evidence, supported by many scientific contemporaries, and persecuted by the religious-political establishment. Nevertheless, there's a slim chance that the 2–3% minority is correct and the 97% climate consensus is wrong.
To evaluate that possibility, a new paper published in the journal of Theoretical and Applied Climatology examines a selection of contrarian climate science research and attempts to replicate their results. The idea is that accurate scientific research should be replicable, and through replication we can also identify any methodological flaws in that research. The study also seeks to answer the question, why do these contrarian papers come to a different conclusion than 97% of the climate science literature?
This new study was authored by Rasmus Benestad, myself (Dana Nuccitelli), Stephan Lewandowsky, Katharine Hayhoe, Hans Olav Hygen, Rob van Dorland, and John Cook. Benestad (who did the lion's share of the work for this paper) created a tool using the R programming language to replicate the results and methods used in a number of frequently-referenced research papers that reject the expert consensus on human-caused global warming. In using this tool, we discovered some common themes among the contrarian research papers.
---
Posted on 17 August 2015 by dana1981 &
Research has shown that Fox News is a major driving force behind climate denial, decreasing viewer trust in scientists and the existence of global warming. In 2013, only 28% of Fox News' climate science segments were accurate, although that was an improvement over its 7% accuracy in 2012.
Fox News anchor Shepard Smith has been one of the few voices on the network willing to accept the scientific reality of human-caused climate change. On the August 10 edition of Fox News' Shepard Smith Reporting, Smith reported on biased industry-funded science by Coca Cola, and made the connection to fossil fuel-funded climate denial studies.
Lisa Kennedy Montgomery: It's actually very brilliant marketing on the part of Coca Cola, because they realize that if someone hears that there's a scientific study behind a reported fact, then they take that, they internalize it and take it to be true … So, what Coca Cola has decided to do is use that "science" in their favor. And if only they could find a few scientists willing to report that it's not the calories but the lack of exercise that's making people obese, then they can use this as a sort of an underground marketing strategy.

Shepard Smith: Well this reminds me of two things. The article in the New York Times this weekend pointed out, it reminds you of exactly what the tobacco industry did back in the day, and more recently it also reminds you of what the climate deniers, the climate change deniers are doing as well.
In fact, just 2 days later, the Fox Business News show Varney & Co. used that strategy in an interview with Roy Spencer. Spencer is one of the fewer than 3% of climate scientists whose research rejects or minimizes the human contribution to global warming, and who infamously made comments about "global warming Nazis."
---
Posted on 6 August 2015 by dana1981 &
The Washington Post's Matea Gold recently interviewed Charles Koch. When she asked if he was worried about climate change, Koch replied,
Well, I mean I believe it's been warming some. There's a big debate on that, because it depends on whether you use satellite measurements, balloon, or you use ground ones that have been adjusted. But there has been warming. The CO2 goes up, the CO2 has probably contributed to that.
This response isn't entirely accurate. For example, data from satellites, balloons (both of which are also 'adjusted'), and thermometers on the ground (including their raw, unadjusted data) all show a clear long-term global warming trend at or near the Earth's surface. But at least Koch acknowledged that the planet has been warming and carbon pollution has contributed to it. In fact, humans are responsible for all of the global warming we've seen since 1950.
Despite not being 100% accurate, at least Koch is beyond Stages 1 and 2 of climate denial (denying the problem exists or that we're the cause). That's better than some Republican presidential candidates like Ted Cruz and possibly even Jeb Bush, although most other politicians have moved beyond the first stages of climate denial, apparently viewing them as a political liability.
Koch's Stage 3 and 4 Climate Denial
Unfortunately, Charles Koch exhibited Stage 3 (deny it's a problem) and Stage 4 (deny we can solve it) climate denial in some of his other interview comments, saying,
They have these models that show [warming], but the models don't work.
Given the recent study finding that climate models are even more accurate than we thought, and we already knew they've been quite accurate, Koch's "models don't work" statement was poorly timed and simply untrue. He also claimed,
But they say it's going to be catastrophic. There is no evidence to that.
Setting impossible expectations is one of the five telltale techniques of climate denial. Do we not have to worry about the consequences of climate change until they become catastrophic? And what if the consequences are just really, really bad? There is certainly plenty of evidence for that; whether or not those potential consequences are deemed "catastrophic" is a judgment call. Is it a "catastrophe" if half of global species go extinct, for example? There's evidence we're headed in that direction. I discussed some potential climate impacts in the following Denial101x lecture.
---
Posted on 31 July 2015 by dana1981 &
Global climate models aren't given nearly enough credit for their accurate global temperature change projections. As the 2014 IPCC report showed, observed global surface temperature changes have been within the range of climate model simulations.
Now a new study shows that the models were even more accurate than previously thought. In previous evaluations like the one done by the IPCC, climate model simulations of global surface air temperature were compared to global surface temperature observational records like HadCRUT4. However, over the oceans, HadCRUT4 uses sea surface temperatures rather than air temperatures.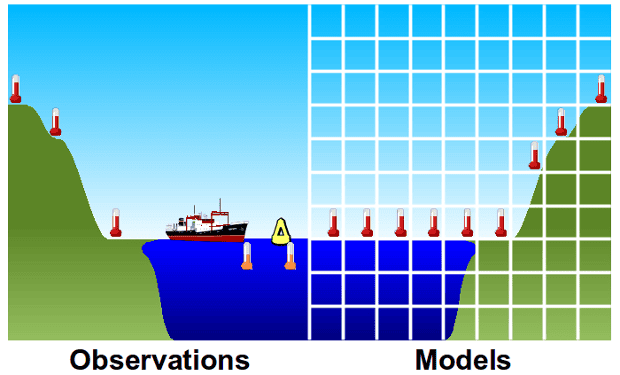 Thus looking at modeled air temperatures and HadCRUT4 observations isn't quite an apples-to-apples comparison for the oceans. As it turns out, sea surface temperatures haven't been warming fast as marine air temperatures, so this comparison introduces a bias that makes the observations look cooler than the model simulations. In reality, the comparisons weren't quite correct. As lead author Kevin Cowtan told me,
---
Posted on 28 July 2015 by dana1981 &
Cherry-picking is one of the five telltale techniques of climate change denial. By focusing on short-term blips in noisy data, those who want to maintain the status quo can distract from the long-term threats posed by climate change. Climate contrarians most frequently deploy this strategy using global temperature and Arctic sea ice data.
A recent study in Nature Geoscience concluded that, not surprisingly, there is a strong relationship between the summer temperatures in the Arctic (specifically the number of "melting degree days"), and the amount of sea ice that melts in a given year. 2013 happened to be a relatively cool year in the Arctic – the coolest since 2004. As a result, there was relatively little ice melt in 2013. The annual minimum Arctic sea ice extent and volume were their largest since at least 2009, or perhaps as far back as 2005, according to the data used in this new study.
The following figure from the paper is as clear as ice – while there was a short-term increase from 2012 to 2013, the Arctic has lost more than half its sea ice over the past three decades.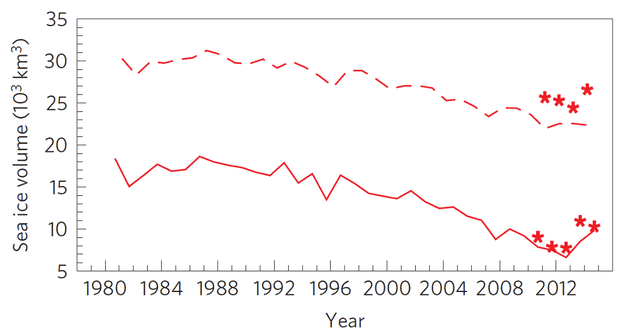 The following video by programmer Andy Lee Robinson also illustrates the dramatic rate of sea ice decline over the past 35 years.
---
Posted on 22 July 2015 by dana1981 &
At the end of this year there will be a critically important international climate change conference in Paris. At this conference, nations will attempt to reach an agreement to reduce greenhouse gas emissions and slow global warming.
Over the past few months there's been a flood of big climate-related news, most of which will help build support and pressure for a strong agreement to curb global warming at the Paris conference. The political and social climate is shifting, and those in denial about human-caused climate change are struggling to adapt.
Scientific research underscores climate risks
John Abraham recently reported on two separate studies published in Nature andNature Climate Change, both of which found that global warming is intensifying several types of extreme weather. California is in the midst of a drought unprecedented in over a millennium, a heat wave is killing thousands of people in India and Pakistan, another has been baking Europe, and it seems as though half of North America is on fire.
---
Posted on 16 July 2015 by dana1981 &
Some zombie myths just won't die. In fact, I debunked this one two years ago at The Guardian.
To sum up, a number of scientific studies have asked the question, 'if the sun were to enter another extended quiet phase (a grand solar minimum), how would that impact global surface temperatures?'. Every study agrees, it would cause no more than 0.3°C cooling, which would only be enough to temporarily offset about a decade's worth of human-caused global warming.
Solar activity is actually quite stable. That's a good thing for us on Earth, because without big swings in the amount of energy reaching the planet from the sun, our climate is likewise generally quite stable. That's allowed us to build big immobile cities and farms, with the confidence that the climate and weather will be pretty consistent in those areas. It's allowed human civilization to develop over the past 10,000 years. Though with human-caused global warming in the process of destabilizing the climate, we're putting that civilization under serious stress.
---
Posted on 8 July 2015 by dana1981 &
A new study has examined the comments on climate science-denying blogs and found strong evidence of widespread conspiratorial thinking. The study looks at the comments made in response to a previous paper linking science denial and conspiracy theories.
Motivated rejection of science
Three years ago, social scientists Lewandowsky, Oberauer, and Gignac published a paper in the journal Psychological Science titled NASA Faked the Moon Landing—Therefore, (Climate) Science Is a Hoax: An Anatomy of the Motivated Rejection of Science.
The paper detailed the evidence the scientists found that, using survey data provided by visitors to climate blogs, those exhibiting conspiratorial thinking are more likely to be skeptical of scientists' conclusions about vaccinations, genetically modified foods, and climate change. This result was replicated in a follow-up study using a representative U.S. sample that obtained the same resultlinking conspiratorial thinking to climate denial.
Of course science denial and conspiracies go hand in hand
This shouldn't be a terribly shocking result. When confronted with inconvenient science, those in denial often reject the evidence by accusing the experts of fraud or conspiracies. We saw a perfect example of this behavior just a few weeks ago. When scientists at NOAA published a paper finding that there was no 'pause' in global warming, one of the most common responses from those in denial involved the conspiratorial accusation that the scientists had somehow fudged the data at the behest of the Obama administration.
---
Posted on 2 July 2015 by dana1981 &
A new paper just published in Science summarizes the projected impacts of climate change on the world's oceans, and consequently on humans and our economy. The study concludes that global warming beyond the international limit of 2°C above pre-industrial temperatures would pose serious threats to marine ecosystems and their millions of human dependents. It builds on the consensus science published by the Intergovernmental Panel on Climate Change last year. The study concludes,
Ocean changes associated with a 2°C warming of global surface temperature carries high risks of impacts and should not be exceeded.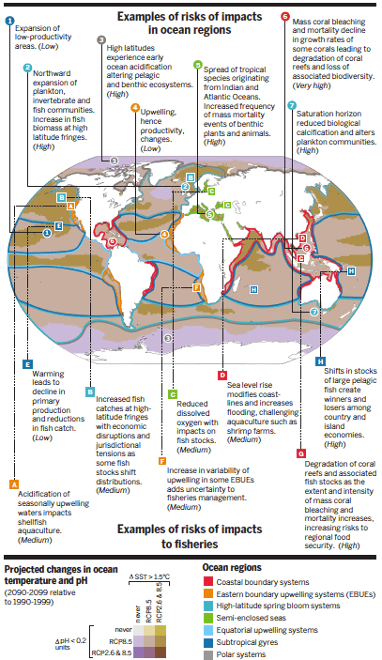 ---
Posted on 17 June 2015 by dana1981 &
Dan Lunt is a climate scientist at the University of Bristol, and also a tremendous fan of J. R. R. Tolkien's books. He was able to stitch together enough information to create a model of the fictional world of Middle Earth and simulate its climate.
As part of the Denial101x course, John Cook interviewed Lunt and discussed the process of simulating the climate of Middle Earth. The interview revealed some interesting tidbits. For example, as discussed in Part 2 below, parts of New Zealand, near where the movie was filmed, have a similar climate to that of The Shire. Los Angeles and Alice Springs, Australia share a climate similar to that of Mordor.
I also inquired whether Lunt might consider simulating the climate in the fictional world of Game of Thrones.

The Consensus Project Website
TEXTBOOK

THE ESCALATOR


(free to republish)
THE DEBUNKING HANDBOOK

The Scientific Guide to
Global Warming Skepticism

Smartphone Apps
iPhone

Android

Nokia