Donald Trump has consistently expressed his conspiratorial and misinformed beliefs that global warming is a hoax.
Ice storm rolls from Texas to Tennessee - I'm in Los Angeles and it's freezing. Global warming is a total, and very expensive, hoax!
Trump is also the presumptive Republican Party nominee for president in 2016, and were he elected, would be the leader of the country with the second-highest net carbon pollution in the world. These are frightening thoughts.
However, as reported by Politico, Trump acknowledges the reality and threats posed by human-caused global warming when it comes to protecting his own assets, and in keeping with his affinity for building walls:
---
Posted on 23 May 2016 by dana1981 &
As we saw in the recent legal ruling against Peabody coal, arguments and myths that are based in denial of the reality of human-caused global warming rarely withstand scientific scrutiny.
In a new study published in Global Environmental Change, a team led by Stephen Lewandowsky tested the accuracy of some popular myths and contrarian talking points sampled from climate denial blogs and other media outlets. The scientists searched the blogs for key words related to Arctic sea ice, glaciers, sea level rise, and temperature to identify the most popular arguments. Not surprisingly, they found some common myths:
nearly two-thirds of all mentions of temperature on the three top contrarian blogs included a claim of "cooling"; and likewise more than a quarter of all mentions of arctic ice alluded to its "recovery", and so on.
Using their search results, the authors put together language that was representative of the most common arguments made on the climate denial blogs about these subjects. To ensure that their example arguments accurately depicted contrarian claims and rhetorical techniques, they also consulted climate experts, who confirmed their representativeness. Interestingly, the climate experts identified many of the same mistakes that my colleagues and I found in our 2015 study attempting to replicate climate contrarian research (cherry picking data, for example).
The authors then used the same data and arguments as the contrarian blogs, but changed the climate variables to something related to economics, and presented them to economists and statisticians:
For example, the [glaciers] scenario pairs the claim that "our country's rural population is growing, not shrinking" with a figure that showed the change in population for numerous individual villages, akin to a figure depicting the mass balance of individual glaciers.

In addition, an alternative statement was constructed for each scenario that summarized the mainstream scientific interpretation of the climate data, again translated into economic or demographic terms (e.g., "almost all of the rural regions of the country are losing population").
The tests involved common contrarian myths that:
---
Posted on 11 May 2016 by dana1981 &
Peabody Energy, the world's largest private sector coal company (now bankrupt), recently faced off against environmental groups in a Minnesota court case. The case was to determine whether the State of Minnesota should continue using its exceptionally low established estimates of the 'social cost of carbon', or whether it should adopt higher federal estimates.
The social cost of carbon is an estimate of how much the damages from carbon pollution cost society via climate change damages. In theory, it represents how much the price of fossil fuels should increase to reflect their true costs.
The coal company called forth witnesses that represented the fringe 2–3% of experts who reject the consensus that humans are the primary cause of global warming, including Roy Spencer and Richard Lindzen, while their opposition invited witnesses like Andrew Dessler and John Abraham who represent the 97% expert consensus.
John Abraham previously summarized the proceedings and ruling in favor of the higher carbon cost estimates, but it's worth delving into some of the details of the climate science and economics arguments to see why the judge ruled against the coal company and its contrarian witnesses. The losing case from the coal company witnesses (rebutted by John Abraham here and here) can be summarized as follows:
---
Posted on 4 May 2016 by dana1981 &
The latest survey data from Yale and George Mason universities underscores thepartisan divide on climate science denial – 73% of Americans realize that global warming is happening, including 71% of liberal/moderate Republicans, but the average is dragged down by the mere 47% of conservative Republicans who answer this question correctly. On the bright side, this is a big improvement from the 28% of conservative Republicans who realized global warming was happening just two years ago.
Similarly, 56% of Americans realize global warming is mostly caused by humans, including 49% of liberal/moderate Republicans, but the number is again dragged down by the 26% of conservative Republicans correctly answering this question.
The numbers and demographics expressing concern about global warming are almost identical to those accepting human-caused global warming. That particular correlation lends support to a recent paper published in Nature Climate Change, led by Jing Shi.
Can facts convince people about global warming?
Social scientist Dan Kahan has argued that ideological and cultural identity can be so strong that scientific evidence, facts, and information can't break through it. Kahan thinks that on certain issues like climate change, ideological biases make many conservatives immune to facts.
In fact, conservatives with higher education and general scientific knowledge are often more wrong about climate change, in what's been coined the "smart idiot" effect. This has led Kahan to conclude that on climate change, facts and knowledge can't sway people. However, other research has found that climate-specific knowledge does correlate with acceptance of climate science.
In the new study led by Jing Shi, the authors surveyed a total of 2,495 people in Canada, China, Germany, Switzerland, the UK, and the US. They asked questions to evaluate the participants' specific knowledge about the physical characteristics of climate change and understanding of its causes and consequences.
Critically, they found that knowledge about the causes of climate change was correlated with higher concern about climate change in all countries, and knowledge about the consequences was linked to higher concern in most countries.
respondents from Germany and Switzerland had significantly higher scores on knowledge about physical aspects of climate change than participants from Canada and the US. Chinese respondents knew significantly more about the causes of climate change than the respondents from the other countries. German and Swiss respondents were most knowledgeable about the consequences of climate change. In contrast, participants from the US had the lowest level of knowledge about climate change among the six countries we surveyed, independent of the type of knowledge.
In short, as illustrated in the Yale/George Mason poll numbers, people who realize that humans are causing global warming are more likely to be concerned about the problem.
In Shi's survey, the Chinese respondents had the most knowledge about the causes of global warming, with the German and Swiss participants most accurately answering the questions about its consequences. These nationalities also expressed the greatest concern about climate change. Americans showed the least climate knowledge and the least concern.
---
Posted on 28 April 2016 by dana1981 &
There's a widespread misconception about science denial – that on issues like the safety vaccines and genetically modified foods (GMOs), denial is found predominantly on the political left, mirroring the denial of evolution and climate science on the political right. This assumption has even been presented on The Daily Show, but it's supported by precious little evidence. In fact, as Chris Mooney documented in great detail in 2014:
[The data] do not support the idea that vaccine denial is a special left-wing cause. As for GMOs, while resistance may be strongest on the far left, worries on this issue are quite prominent across the spectrum as well.

In neither case are these beliefs a mirror image, on the left, of climate change or evolution denial [on the political right].
New polling further debunks the science denial symmetry myth
A new YouGov poll provided yet more data, asking, "Do you think it is generally safe or unsafe to eat genetically modified foods?". There was little difference in answers across political affiliations – Democrats and Republicans were evenly split on the question of safe/unsafe, and Independents were more likely to consider GMOs unsafe. Gender and family income best predicted the answers, with men and higher-income individuals more likely to consider GMOs safe.
---
Posted on 21 April 2016 by dana1981 &
Click here to read the original at the Bulletin of Atomic Scientists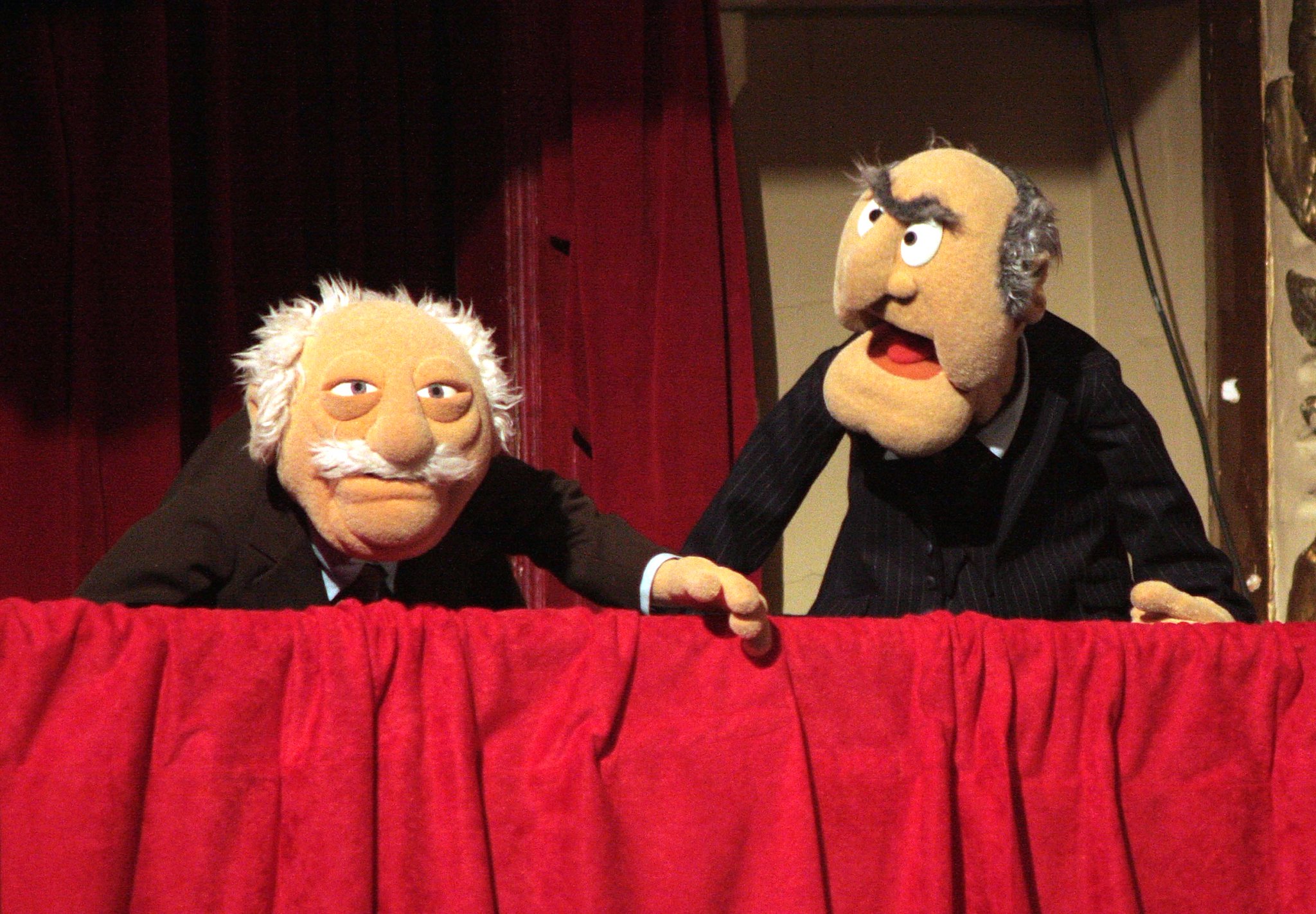 A record number of Americans now view global warming as a serious threat and blame human activities as the cause. But there is apparently a generation gap out there when it comes to accepting the scientific evidence. And an ethnic gap, a gender gap, and a gap in political leaning—along with whether one can be considered one of society's "haves" or "have nots." So, who are these climate deniers? What is their profile?
---
Posted on 19 April 2016 by dana1981 &
A new study published in Climate Dynamics has found that humans are responsible for virtually all of the observed global warming since the mid-20th century. It's not a novel result – in fact, most global warming attribution studies have arrived at the same general result – but this study uses a new approach.
Studies attempting to figure out the global warming contributions of various human and natural sources usually use a statistical approach known as 'linear regression'. This approach assumes we know the pattern of warming that each source (forcing) will cause, but we don't know how big the resulting warming will be. For example, we know that greenhouse gases cause more warming over land than water, the most in the Arctic, and more warming in response to rising atmospheric carbon dioxide levels.
As an example of this approach, this animated graphic shows what happens when a 2011 study by Foster & Rahmstorf removed the known natural influences from the observed global surface temperature record, leaving behind the human-caused global warming signal.
---
Posted on 13 April 2016 by dana1981 &
There is an overwhelming expert scientific consensus on human-caused global warming.
Authors of seven previous climate consensus studies — including Naomi Oreskes,Peter Doran, William Anderegg, Bart Verheggen, Ed Maibach, J. Stuart Carlton,John Cook, myself, and six of our colleagues — have co-authored a new paper that should settle this question once and for all. The two key conclusions from the paper are:
1) Depending on exactly how you measure the expert consensus, it's somewhere between 90% and 100% that agree humans are responsible for climate change, with most of our studies finding 97% consensus among publishing climate scientists.

2) The greater the climate expertise among those surveyed, the higher the consensus on human-caused global warming.
Expert consensus is a powerful thing. People know we don't have the time or capacity to learn about everything, and so we frequently defer to the conclusions of experts. It's why we visit doctors when we're ill. The same is true of climate change: most people defer to the expert consensus of climate scientists. Crucially, as we note in our paper:
Public perception of the scientific consensus has been found to be a gateway belief, affecting other climate beliefs and attitudes including policy support.
That's why those who oppose taking action to curb climate change have engaged in a misinformation campaign to deny the existence of the expert consensus. They've been largely successful, as the public badly underestimate the expert consensus, in what we call the "consensus gap." Only 12% of Americans realize that the consensus is above 90%.

---
Posted on 4 April 2016 by dana1981 &
It's long puzzled climate realists: why do free market supporters oppose free market solutions to climate change? The answer may be related to another puzzling question: why does Donald Trump have such unwavering support among a certain segment of American conservatives?
A recent paper by Jeremiah Bohr published in the journal Environmental Politics sought to answer the climate question. As Bohr notes:
Mainstream policy responses seek to utilize market mechanisms in an effort to minimize costs for major emitters of greenhouse gases. Presumably, this should win over some climate change deniers who align themselves with think tanks promoting free markets and economic growth. Yet, climate change deniers and free-market activists are as staunchly opposed to market-based climate policy as they are to any other form of climate mitigation.
Bohr looked through issues of the Heartland Institute's Environment and Climate News newsletter. He found that about 75% of Heartland's articles denied climate science, usually by exaggerating uncertainties, or by presenting the evidence as junk science. About 6% argued that climate change will be beneficial, and 39% argued that climate policies will do more harm than good, usually claiming that they'll hurt the economy.
Among the latter group, 51% characterized markets as inherently efficient, self-regulating, and generative of wealth. Heartland views any tampering with the market as bad for the economy. As Bohr describes it:
---
Posted on 21 March 2016 by dana1981 &
"Stunning," "wow," "shocker," "bombshell," "astronomical," "insane,""unprecedented"– these are some of the words climate scientists have used to describe the record-shattering global surface temperatures in February 2016.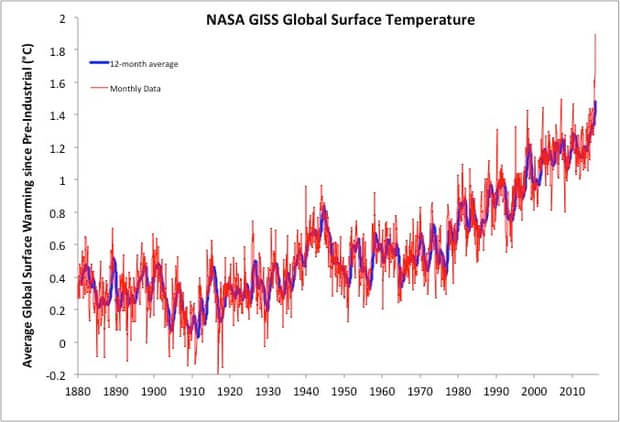 It's difficult to see any 'pause' or slowdown in the global warming over the past 50 years.
To put the current temperatures into context, prior to last October, monthly global surface temperatures had not been more than 0.96°C hotter than the 1951–1980 average, according to Nasa. The past 5 months have been 1.06°C, 1.03°C, 1.10°C, 1.14°C, and 1.35°C hotter than that average, absolutely destroying previous records. Estimates from Noaa are in broad agreement with those from Nasa.
Right now, the Earth's average surface temperature is hotter than it's been in thousands of years; potentially even longer.